Reg readers feel the squeeze in 2010 IT budgets
Calling all belt-tighteners - how is it for you?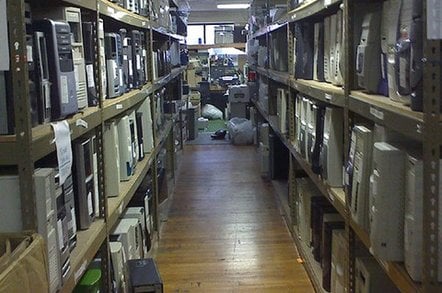 Preliminary results from our 2009/10 x86 Vendor Preference Survey show that the economy has had a considerable impact on IT spending among our survey respondents. While this is perhaps a self-evident finding, it gives us some data to hang our hats on.
We stress that these results are tentative, as the survey is still out in the field and could well change as more responses are received. But we also wanted to share a bit of interesting data and maybe even induce more of you to take the survey. [Click here to get started.]
The first graph shows a summary of how respondents answered a set of questions asking how their 2010 budget has fared in these troubled economic times. (The results won't total 100 per cent, because we're just showing the number of people who agreed with particular statements that were posed in three separate questions.)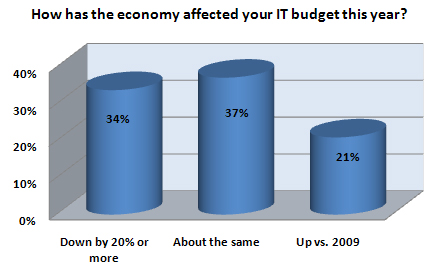 As you can see, the number of respondents who have seen their budgets slashed by more than 20 per cent is quite large: 34 per cent. We actually expected this number come in around 25 per cent or so.
To give a little more detail on the "Down 20 per cent or more" result, another 12 per cent of our respondents on that question said that they weren't sure about their 2010 budget even now – signalling that there might be future cuts, pushing them over the 20 per cent hurdle. But more than half (54 per cent) were certain that they wouldn't take this type of hit.
We saw roughly the same results on the "2010 budgets about the same" question: 37 per cent of respondents said their budgets will remain about the same, but an additional 15 per cent weren't sure that their 2010 budgets are stable yet. The remainder (48 per cent) said that they had taken a significant budget hit this year.
There was much more certainty on the "Budgets up vs 2009" question; 21 per cent said their budgets were rising, while 65 per cent were sure that they won't get more money this year compared to 2009.
We also received quite a few good responses to a qualitative question we asked about cost-cutting. We worded the question in such a way as to give respondents an opportunity to either vent frustration or tell us about stupid/funny cost-cutting measures in their organiations – and we got plenty of stuff in both categories.
There are subtle changes to some of the responses in order to remove any identifying characteristics, but the important points remain intact.
On the cost-cutting side, there were many variations on the 'spending freeze' theme:
Cancel all spending non-project related, including capacity growth…

Budget approvals based on last year's usage, not this year's needs.
We're also seeing a lot of responses that allude to data center folks being forced to wear more hats:
Probably the worst thing they have done is cut the Helpdesk staff and put their duties on system administrators. A sure fire recipe to create a BOFH is to make people who are already trying to wrap their heads around Microsoft's latest idiocy in Server 2008 or Exchange 2010 help the person who thinks editing a plain text file (the Windows hosts file) is "serious stuff".
Sponsored: Minds Mastering Machines - Call for papers now open