Eye-Fi launches X2 wireless SD cards in UK
Network connections for your camera
Wireless SD Card maker Eye-Fi has updated its line-up and queued the cards up to arrive on shop shelves at the end of April.
The new, "X2" range comprises the Connect, Explore and Pro cards, offering 4GB, 8GB and 8GB of on-board storage, respectively. They are Class 6 SD cards and incorporate 802.11n Wi-Fi.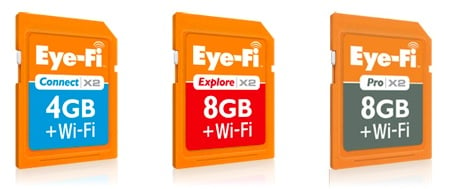 Designed for your digital camera, the Connect will automatically upload pictures to a network-connected computer and, through your router, to picture sites like Flickr and Picasa. It costs £50.
The Explore adds geotagging, but you'll pay a further £50 for that and the extra 4GB of storage.
The £120 Pro has the ability to connect directly to a computer when there's no Wi-Fi hotspot the two can hook up to. ®
COMMENTS
oh christ
Clever technology, but it must be destroyed.
Consider, if you will, the recent commentard who asserted that "just pressing the shutter button" was the be-all and end all of photography, implying that all else was posing and artifice.
There are enough people who just glop the contents of their cameras out onto flickr/facebook/whatever the hell else, without any discrimination. that's right, all two hundred shitty pics that they took last night, whether they are straight, in focus, properly framed, or interesting.
Painfully wading through them all is just so much better than only looking at the ones which aren't rubbish, and also, which have maybe been cropped/straightened/had the curves adjusted a bit, so that they're nice to look at.
You just can't have enough blurry close-ups of the pores in a sweaty drunk's nose, after all.
Cool technology, but the opposite of what a lot of people need. Sorry, I know it's a rant, but I just got exposed to a load of "pictures" like this, from someone who expected me to coo at each and every one, and my sense of proportion is a wee bit messed up...
Neat
Very cool, but imagine the blushes if you forgot your camera automatically uploaded to a public gallery and you took it into the bedroom for some growler shots.
is this a candidate ...
for an up and coming april fools day ?