Chinese gamer survives knife through skull
At the sharp end of net cafe Counter Strike row
A Chinese gamer's net cafe Counter Strike session ended under the surgeon's knife when youths stabbed him in the skull with a 14-cm blade.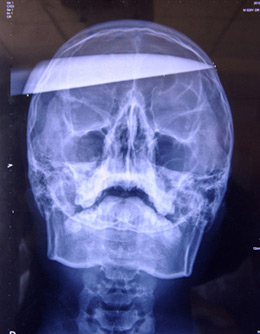 Xiao Wei, 17, of Mishazi, Jilin province, was apparently accused of using a "wallhack", allowing him to see the opposition through walls. He and chum Huang were bodily hauled from the cafe and beaten by disgruntled rivals.
Huang explained: "My left arm was stabbed through by them, and when they had gone, I found Xiao Wei was lying on the ground with a knife in his head."
Remarkably, Wei was able to walk to the 2nd Affiliated Hospital of Jilin University. Professor Yan Shi-jun, the hospital's deputy director of neurosurgery, reported: "His face was covered in blood, but he was still conscious."
Although the surgeon estimated the chances of Wei surviving such an injury were "one in ten thousand", the blade "missed major arteries, which kept him from hemorrhaging, and managed to somehow avoid affecting motor skills even though the blade passed through areas that handle those functions", as gaming site Kotaku puts it (warning: graphic images).
While the blade was successfully removed, the victim may suffer post-operative complications such as infection or epileptic fits, and doctors are keeping a close eye out for fragments of rust which could have dislodged from the blade and might still be inside his skull. ®
Bootnote
As is commonly the case when dealing with news from China, various reports on this incident offer different details. Some of you will doubtless be suspicious that this is a cooked-up tale of woe designed by the Chinese authorities to warn the nation's youth of the dangers of gaming, the internet and 14-cm knives. Well, feel free to Google China it for clarific... oh wait.
Sponsored: Minds Mastering Machines - Call for papers now open