Acer Aspire One 532
The best 2G Atom machine?
As with the Asus Eee PC 1005PE, Intel's new Atom N450 didn't do anything special in the PCMark05 benchmark. The CPU and Memory scores were a smidgen higher than the 1005PE achieved, but they still lag behind many of the old, N280-based netbooks we've tested.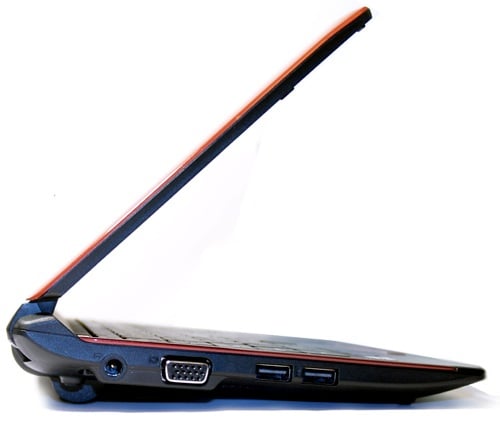 The six-cell battery gives the netbook a slight tilt
3DMark06 just about ran, with an overall score of 156 at the 532h's native resolution. The internal fan seemed to do a good job of quietly expelling hot air during the benchmarks. As is common with netbooks, the section nearest to the vent on the left did get a little warm.
Despite Intel suggesting otherwise, Pine Trail was never really about improving performance. Lower power consumption is its main plus point, and we were therefore hoping for decent battery life. Sadly, we were disappointed, with the 532h drawing around 11W during our standard video playback test, the six-cell 4400mAh (48Wh) battery could only tick away for four hours and 11 minutes before the lights went out. Switch off Wi-Fi, dim the display and stick to word processing, and you'll likely get closer to Acer's claim of eight hours.
And don't forget, we had the unit with the six-cell battery - the cheaper, three-cell power unit will deliver half the numbers we recorded.
Verdict
The Aspire One 532h is by no means a bad netbook, but there's nothing particularly jaw-dropping about it either. Battery life is unspectacular, while performance can't quite keep pace with last year's netbooks. The awkwardly-designed touchpad also holds it back. At just under £300, it's reasonably priced, but with our almost flawless Ubuntu experience it's a shame you can't buy it without having to slip a few bob to Microsoft. ®
Thanks to SaveOnLaptops.com for the review unit.
More Netbook Reviews...

Samsung
N220

Archos 9
PCtablet

Asus
Eee PC
1005PE

Nokia
Booklet 3G

Acer Aspire One 532
A solid but somewhat uninspiring netbook, and we expected more in the way of battery life from Acer's debut 'Pine Trail' machine.