Acer Aspire One 532
The best 2G Atom machine?
As for ports, the three USB sockets - two on the left, one on the right - are joined by Ethernet, VGA, audio in and out, and a multi-format memory card slot. We found the USB ports to be tight, with attached devices requiring a pretty hefty tug to remove them.
Audio is provided by two speakers situated at the front of the laptop. They're not especially loud, but at least there's no distortion when the volume's at full whack.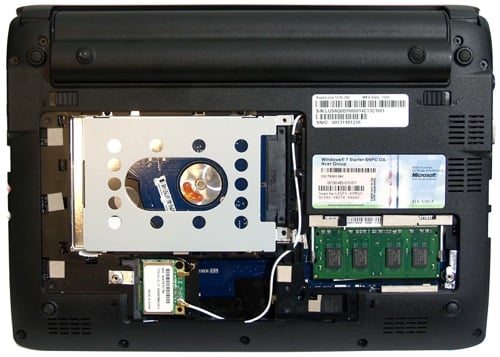 The innards are easy to get at, but a memory upgrade isn't an option
A 250GB hard drive provides plenty of storage and networking comes in the form of the 10/100Mb/s Ethernet port and built-in 802.11n wireless. According to Acer, Bluetooth and, more interestingly, 3G are both options, but we couldn't find any such models on sale in the UK.
Acer has done a sterling job in making the internals easy to get at. Two separate panels can be removed on the underside: one lets you access the hard drive and wireless card, the other reveals a single memory slot. If your geek brain is already formulating plans for a 2GB upgrade, we've some bad news for you: the 532h will only recognise 1GB. This limitation is a real shame, especially since the installed Windows 7 Starter would benefit hugely from a memory upgrade.
In need of a performance boost, we installed Ubuntu Netbook Remix. Impressively, everything appeared to work without the need for additional drivers, including the wired and wireless network hardware. As expected, it was also much faster than the Microsoft alternative. Further testing revealed a few glitches, such as the microphone and SD slot not functioning, and no multi-touch gestures on the touchpad, but nothing too major.