Acer Aspire One 532
The best 2G Atom machine?
In the past, Acer has gone with two different types of keyboard. The original Aspire One, along with a few subsequent models, featured a standard, raised-key design, while the more recent Aspire One 751 - reviewed here - had a flat, low-profile keyboard. With the 523h, Acer's gone with the low-profile version. However, while the 11.6in display of the 751 meant a bigger chassis and more room for the keys, on this 10.1in model things are a bit more cramped. Acer's done well to use every last bit of the keyboard's width, but there's very little space between the keys so it's all too easy to slip onto a neighbouring key. As expected, some squishing has occurred, including the left Shift, '#', ']' and arrow keys.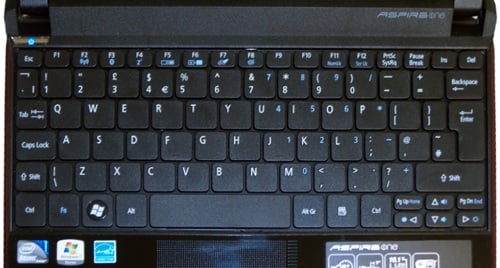 Large keys, but not the easiest to type on
We're not fans of what Acer's done to the touchpad. It's made of the same glossy plastic as the rest of the chassis and, in an attempt to add some texture, it's been splattered with tiny circular pads. Acer calls this an "anti-slip microbead" texture, but we have to question whether a touchpad should have an anti-slip texture – if anything, you want it to encourage slippage. We found our fingers didn't run across the touchpad very easily; something that proved a particular nuisance when attempting to make small, precise movements. Stick with a light touch and things aren't too bad, but we'd prefer something a bit smoother.
The touchpad is also multi-touch, but attempting to perform rotating or zooming motions with two fingers is tricky given its small size. A single rocker-bar sits below it and provides solid left and right mouse clicks – this bar also matches the lid colour.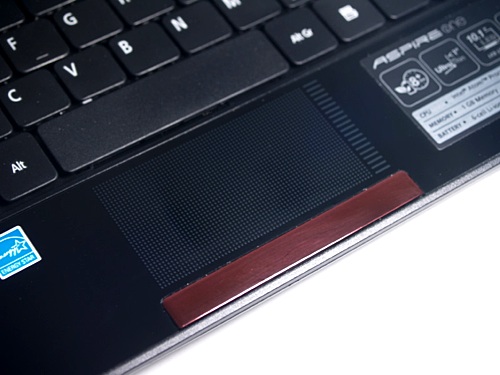 Acer, there's no need for an anti-slip covering on a touchpad
The 10.1in display has a native resolution of 1024 x 600 and sports a glossy coating. Reflections are obviously exaggerated by the screen's shiny nature, but colours are good and it performed well even in bright sunlight. If you prefer your netbooks to have a non-glossy display, watch out for the Samsung N220 - reviewed here.