Geezer eBays 'bastardised, chaved up Skippy mobile'
Renault Clio pitch acclaimed 'best advert eva', innit
The seller of a 2005 Renault Clio has brightened a few days with his novel description of the "proper bastardised, chaved up Skippy mobile".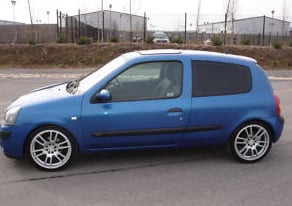 The vehicle in question is apparently ideal for "Teenage Drug Dealers/Low Life & Oxygen Thieves" and represents "a fantastic opportunity to increase 3 fold your class A drug selling ability".
The pitch invites: "Dig out yer favourite unwashed 'Umbro' hoodie and come cast your shifty little eyes on this. Ideal for the 'Street Pharmacist' and other suitably attired twats. Your gonna need a baseball cap with this beauty, ideally one that comes with no fitting instructions. Heaven forbid you should put it on the right way. What better way to compliment your stolen Nike Air Max trainers than to be seen dangling a foot outta this pocket rocket."
The Clio boasts "proper blacked out gangster glass on the side windows", a "pointless but ridiculously noisy after market air filter" and "ridiculous rock hard lowered suspension", all the better to "let the other hoodies know you've made it".
The vendor is offering female buyers "a free Tatoo of something utterly meaninless to go in the middle of your lower back", and while this incentive to flash the cash doesn't appear to extend to the lads, they are promised the car "will increase the length of your manhood no end".
The blurb delightfully adds: "If your an under-age drink driver, or under-age driver for that matter, this little beauty really isn't going to attract the attention of the local constabulary at all. you'll drift pass any patrol car effortlessly. Make sure there is at least 6 of you in the car though, Splif in hand. If your driving, have another swig from your 2 litre plastic 'LIDL' brand cider as you nonchalantly flip the bird to the passing police patrol. Head off for the nearest estate for some tyre screeching fun. They ain't never gonna take you alive in this."
Well, quite so, innit. So popular has this apt description of what's possibly the ultimate feral youth chavmobile proved, that there's a Facebook group in its honour, declaring it the "best e-bay advert eva". ®
Sponsored: Minds Mastering Machines - Call for papers now open