Just how does IT spend its time looking after ERP?
The results are in
The difficulty though, for older systems with more limited embedded reporting and BI capability in particular, is that this area can consume a lot of time and resources just working around the practical challenges:
Don't forget the reporting systems bolted onto the ERP along with other integrations, making changes is a total nightmare.
The other important observation from Figure 3 is the way in which functions relating to externally facing parts of the business are often the most dynamic – sales, supply chain, procurement, supplier management, and so on. Together with finance and accounting, which is subject to a lot of regulatory and tax related change, this highlights that outside factors, ie the dynamics of what's going on in the big wide world, constantly impact the ERP environment.
This need for constant change, and the previous emphasis on business functionality, is reflected in factors which are likely to influence an ERP replacement decision (Figure 4).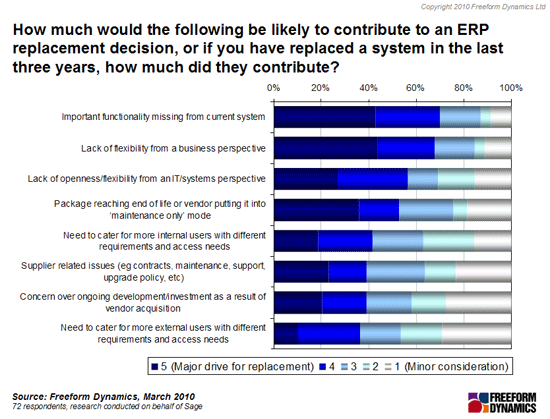 Figure 4
In addition to the lack of business flexibility, limitations with respect to IT level flexibility and openness, which also appear quite prominently here, can be another driver for replacement. Having said all this, a decision to replace is clearly not one that will be taken lightly, and when we look at the potential impediments, the reasons are pretty obvious (Figure 5).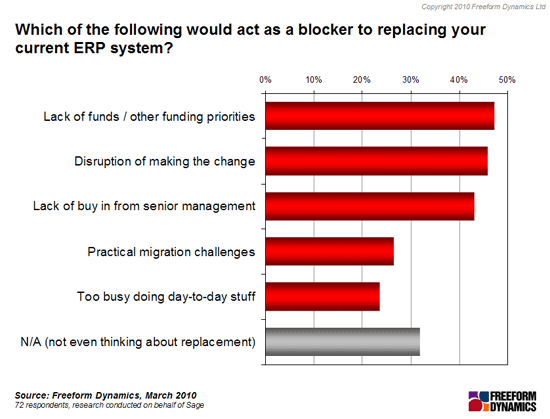 Figure 5
Given these challenges, it is interesting that some recommend more of a continuous re-implementation approach in which parts of the system that are drifting from alignment with business requirements are selectively revisited when necessary:
To be honest, the continual re-implementation is a good thing! Organisations are able to continuously improve their use of the ERP system and can vastly improve the implementation over time. Also, the business environment is continually changing, and organisations evolve to cope; most ERP systems will probably have the required functionality to support these changes, so extending the implementation of the current ERP system is normally a cheaper option than a new ERP system.
One of the considerations here is clearly whether the underlying package is still current from a core architecture and functionality perspective.
The whole discussion around whether to replace or upgrade, and the criteria that are important if you do decide to go down the replacement route, is something we will be picking up in subsequent articles and polls during our ongoing workshop.
In the meantime, there was one comment that came back from a reader that we felt was particularly apt when thinking about anything to do with ERP:
Installing an ERP system is not an IT project - it is a business project. Anyone that doesn't understand the difference is doomed to failure. Yes there is an IT project as part of it, but that part is very small.
Nevertheless, IT is always going to be part of the equation, and we appreciate the time of those who participated in our poll to help us understand that dimension a little better. ®
Sponsored: Minds Mastering Machines - Call for papers now open