Upgrading is a potential problem as well. It's unlikely you'll want to change the spacious 320GB hard drive, but getting at the Ram and battery is a real challenge. Both are concealed under a solid slice of aluminium, and even with all the visible screws removed we couldn't figure a way to get the bottom plate off without employing a small crowbar.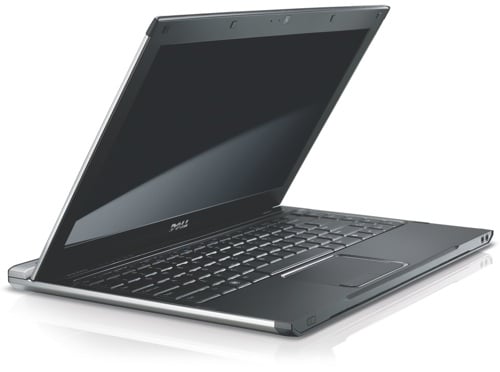 Nice looks, shame about the performance
Those who have fallen for the V13's slim charms shouldn't despair, however. True to form, Dell offers a number of configurations for the system, starting at a 1.2GHz Celeron (shudder) and going as far as a well-specced 1.3GHz Core 2 Duo SU7300 with 4GB of memory for around £105 more than the review unit.
The V13 isn't flawless. The features list is rather bare – Dell says an optional HSDPA 3G module is "coming soon", and a fingerprint reader is standard issue on most business laptops but absent here. The top-end model begins to look distinctly pricey at a shade under £600, but you're getting a laptop with capable performance, good looks and excellent portability. The single-core models may be cheaper than the dual-core V13, but we'd pick the latter every time for its greater performance.
Verdict
Business PCs aren't supposed to evoke a little shiver of pleasure each time you pick them up. In the V13's case, the pleasure is doubled: there's usually a significant premium attached to this kind of design and it's pleasing to see that you can spend – at the bottom of the range – almost netbook money on a machine with looks that give Apple and Sony's finest a run for their money. And it comes from Dell. Who would have imagined? ®
More Compact Laptop Reviews...

Lenovo
ThinkPad
Edge

Sony
Vaio X

Toshiba
Satellite
T110

Acer
Aspire
1810TZ

Dell Vostro V13
A fine piece of design married to a surprisingly low price. The features list is short, and the single-core performance stinks, but you can't argue with the price.
COMMENTS
Acer Timeline 8371
I would take a look at the above (or 8471 if you want a DVD drive). Battery life is great, the specs are better and the price is lower. Importantly, it comes with w7 pro - the Dell comes with Home edition which I think excludes it from being classed as a business machine especially when doing comparisons.
Presumably Dell will be doing one of their external optical jobbies
which it seems every Dell shop has about a bazillion of kicking about doing nothing. I swear, when humanity's time on this Earth is done, it'll be the insects and the Dell optical drives that take the reigns
"We couldn't figure a way to get the bottom plate off"
It's a Dell business laptop - the service manual is on the Internet:
http://support.dell.com/support/edocs/systems/vosV13/en/sm/TD_Bottom_Base.htm
Vostro
I went to check on the new Vostro 3000 at Dell. Starting at the base model i changed the OS from win32 to win64 at which point I got a warning telling me that, and I quote, "A 64 Bit Operating System requires a Minimm of 6144MB of Memory." (spelling error is theirs). As if this wasn't bad enough they don't offer that amount of memory on the base model. I used dell chat to try and tell them but I couldn't get them to understand
DVD
i installed Windows 7 on a Presario in 12 minutes the other day, from boot to desktop, using a USB key. Why the hell would I want to use a DVD drive for this purpose. Seriously, optical drives are old hat.
I might at a push, have a Blu-Ray drive in the living room, but I'd rather download it (legally) and, using the money saved not buying the physical item (???), to buy extra storage for the media server.
Still, the Vostro is eye-candy I suppose, but a single core sucks.