The V13's screen has enough vertical resolution to show HD videos, but our performance tests were the one area where the V13 really disappointed. Running PCMark Vantage resulted in an overall score of 1776, but it's in use that the inadequacies of the single-core 1.4GHz Intel Core 2 Solo SU3500 come to the fore.
Running Internet Explorer with more than half a dozen tabs open resulted in annoying delays when entering text, and attempting to watch HD videos from Vimeo.com proved impossible - the bitrate is so high as to produce stuttering, unwatchable playback.
PCMark Vantage Results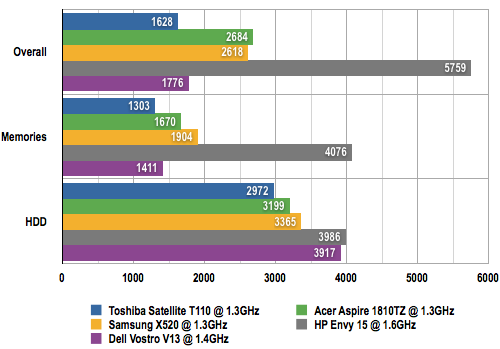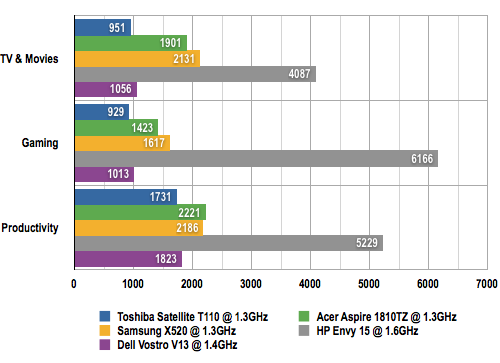 Longer bars are better
The charts tell it all: the V13 was well beaten by small notebooks - the 1810TZ and T110 - with lower-clock but two-core processors - and Pentiums, at that. We included the HP Envy to show what difference a full Core i7 CPU makes.
This particular model of the V13 is best saved for those who have already made the jump to cloud-computing - editing with Google Docs rather than Word, for instance. The V13 has 2GB of DDR 3 memory, but without sufficient computational oomph multitasking is all but out of the question.
PCMark Vantage Battery Life Results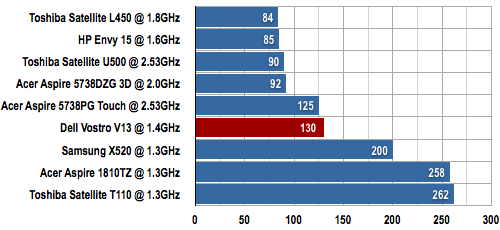 Battery life in minutes
Longer bars are better
COMMENTS
Acer Timeline 8371
I would take a look at the above (or 8471 if you want a DVD drive). Battery life is great, the specs are better and the price is lower. Importantly, it comes with w7 pro - the Dell comes with Home edition which I think excludes it from being classed as a business machine especially when doing comparisons.
Presumably Dell will be doing one of their external optical jobbies
which it seems every Dell shop has about a bazillion of kicking about doing nothing. I swear, when humanity's time on this Earth is done, it'll be the insects and the Dell optical drives that take the reigns
"We couldn't figure a way to get the bottom plate off"
It's a Dell business laptop - the service manual is on the Internet:
http://support.dell.com/support/edocs/systems/vosV13/en/sm/TD_Bottom_Base.htm
Vostro
I went to check on the new Vostro 3000 at Dell. Starting at the base model i changed the OS from win32 to win64 at which point I got a warning telling me that, and I quote, "A 64 Bit Operating System requires a Minimm of 6144MB of Memory." (spelling error is theirs). As if this wasn't bad enough they don't offer that amount of memory on the base model. I used dell chat to try and tell them but I couldn't get them to understand
DVD
i installed Windows 7 on a Presario in 12 minutes the other day, from boot to desktop, using a USB key. Why the hell would I want to use a DVD drive for this purpose. Seriously, optical drives are old hat.
I might at a push, have a Blu-Ray drive in the living room, but I'd rather download it (legally) and, using the money saved not buying the physical item (???), to buy extra storage for the media server.
Still, the Vostro is eye-candy I suppose, but a single core sucks.