Telmap links up with BlueSky
They really have got GPS working on a SIM!
Telmap has integrated its software with BlueSky's GPS-on-a-SIM technology, providing location-based mapping on low-end phones just as soon as they can find a distributor.
BlueSky announced that it would embed a GPS receiver into a SIM back in 2007 and promised us a sample by June of that year, but now Telmap tells us it's seen working examples and has integrated its mapping software to provide turn-by-turn directions on low- and mid-range handsets lacking GPS.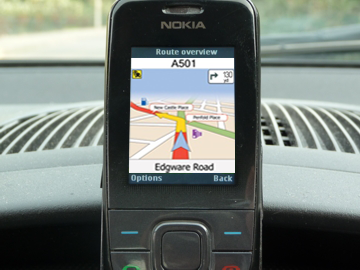 We were dubious of the idea back in 2007, and spoke to BlueSky, which explained that its technology was based on using the battery of the phone as a proximity antenna. The engineers we spoke to certainly knew their stuff, even if the idea seemed outlandish.
The Global Positioning System works by receiving very low power signals from orbiting satellites, at around 1.5GHz and 1.2GHz. Picking up those signals when sandwiched between a circuit board and a battery seems optimistic to say the least. BlueSky's approach makes use of all that metal to focus the signal, enabling the signal to be picked up by the SIM which also operates as a normal GSM SIM.
The mathematics required are beyond even BlueSky's hardware, so this is an A-GPS product which uses a network connection to pass off the number crunching to a dedicated server - a perfectly reasonable way to get a fix.
But being a normal SIM means BlueSky's solution can't be distributed by anyone except a network operator - as network operators are the ones who own the SIM. Telmap reckons there's a ready market for navigation applications in Africa and parts of Europe where mid-range handsets still lack built-in GPS, and now that the device has been shown to work ("the long-awaited breakthrough" as Telmap's CTO put it to us) Telmap can start talking to operators in those regions about deploying the technology.
It won't work in every phone, and it's not going to appeal to owners of the latest smart phones, but the window of opportunity for SIM-based GPS is still open - just. ®
Sponsored: Minds Mastering Machines - Call for papers now open