Sony Bloggie
YouTuber cam with 360° imaging, anyone?
While there is on-board image stabilisation, it doesn't work at 1080p or 720/60p and wasn't particularly effective either. With the zoom being jerky, if you choose to use it you might want to consider framing shots at the right magnification first before recording.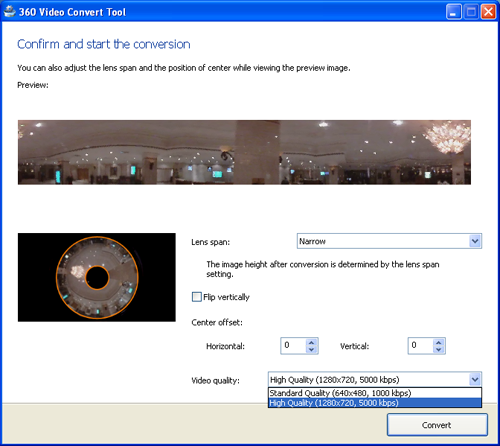 PMB desktop software 360-degree pre-conversion options
If zooming in and out with lots of motion is what you foresee shooting, then you'll need to work in 720p mode. The 1080p option only really comes into its own with compositions that do not involve too much movement and are fairly well lit. Given its price of £180 is it too much to ask for more?
Certainly, Sony takes the view that its 360-degree capture mode is the feature that will make the Bloggie stand out from the crowd. While it does offer something different, the process is a bit of a let down. For a start, Sony's PMB software did take at least 20 minutes to convert a clip lasting about 6mins. And after such a long wait you'd hope for something special.
However, when viewing the end result you are left somewhat underwhelmed to say the least. Admittedly, the processed video is interesting, but the quality of the clip after conversion leaves a lot to be desired. In this instance, 'terrible' might not be too strong a word. This feature might appeal to people who are looking for something different, but given the quality, that does seem doubtful.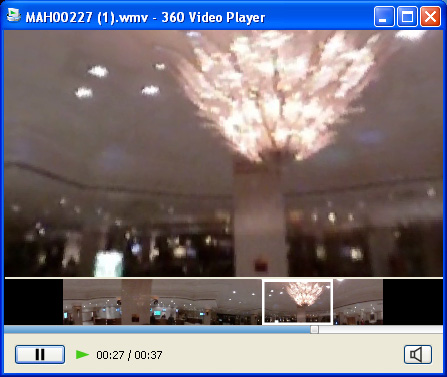 Video nasty: the 360-degree video player has a sliding window to highlight any area of the panorama
With normal video playback, the colours looked good in bright conditions. In subdued light conditions, digital noise starts to creep, in but the quality is still satisfactory. Its performance in low light is not quite there, as the graininess is fairly evident. Likewise, still images are good in well-lit and outdoor environments, with the same low light issues. The camera also has a face detection technology to recognize and enhance faces by automatically correcting exposure, and it does work well, giving warm skin tones.
Sponsored: Minds Mastering Machines - Call for papers now open