Sony Bloggie
YouTuber cam with 360° imaging, anyone?
In the box is a snap-on lens attachment that creates a 360-degree panoramic view that can be captured in either stills or video mode. The image is converted using the version of Sony's Picture Motion Browser (PMB) that comes on the CD.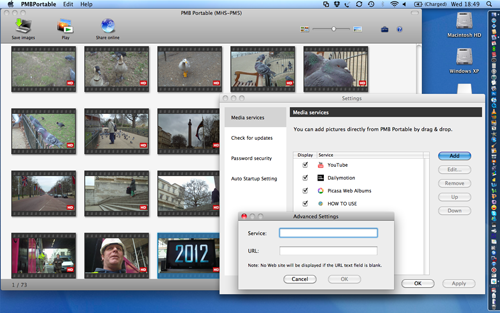 PMP Portable software for Mac and Windows is built-in, so you'll always have it on the go
Click for a larger image
This software is Windows-only and is not the same as the PMB Portable application for Windows and Mac that comes preloaded on a partition within the Bloggie itself. The panoramic lens attachment is certainly enticing, and it even has its own soft pouch, as for the results, more on this later.
The Bloggie accepts both Memory Stick Duo variants and SD/SDHC cards. Evidently, Sony is coming to terms with the lack of love for its overpriced proprietary storage format. Indeed, the Webbie was Memory Stick-only and sales probably suffered as a result.
Even so, a 4GB Memory Stick card is supplied which will get you started and is sufficient for around 40 minutes recording at 1080p and 2hrs at 720/30p. Yet with all this HD capability, there's no HDMI connection for viewing on your HDTV, just an A/V output socket with a composite cable for a low-fi viewing experience. A component cable option is available for a price.
With portability and easy uploading at its heart, it's simple to connect the Bloggie directly to any computer through the built in USB arm that slides out from the base. If the protruding USB connector isn't sufficient, a short extension cable is also provided to get into awkward ports.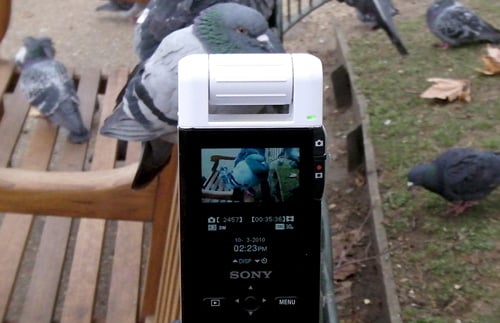 A perfect companion for all your tweets
The integrated USB connector is a nice touch though, as it keeps the Bloggie cable-free and it will also charge from the host machine. That said, retracting it can be a problem, as there is evidently a knack to this push and slide process that turns something so simple into a minor frustration.
Sponsored: Minds Mastering Machines - Call for papers now open