Elon Musk's Falcon 9 suffers rocketus interruptus in pad test
Backfires, blows cloud of soot, but won't start
The Falcon 9 rocket made by famed tech hecamillionaire Elon Musk's company SpaceX has suffered a test-firing failure on the pad in Florida.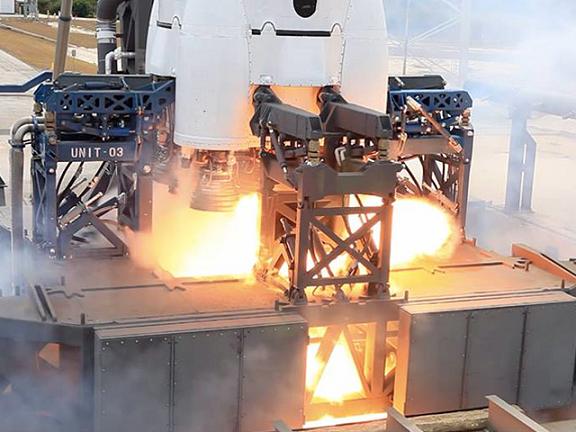 Bloody thing must be flooded.
Flames and black smoke belched briefly from the bottom of the rocket as the test commenced earlier this week at Launch Complex 40 on Cape Canaveral, but SpaceX says that in fact the engines never ignited. Rather, an automatic abort of the test was triggered by a failure in the starter system just two seconds before the short test firing was set to begin. The fire and smoke beneath the Falcon 9 resulted from automatic purging of un-burnt fuel and oxidiser.
According to a SpaceX statement:
Tanks pressed nominally and we passed all Terminal count, flight software, and ground software abort checks right down to T-2 seconds. We encountered a problem with the spin start system and aborted nominally.

As part of the abort, we close the pre-valves to isolate the engines from the propellant tank and purge the residual propellants. The brief flames seen are normal burn off of residual LOX [liquid oxygen] and kerosene ... no damage occurred to the vehicle.
The kerosene-fuelled Falcon 9 - so named because it uses 9 of SpaceX's proprietary Merlin rocket engines - is intended initially to lift substantial payloads into Earth orbit. The firm intends to send its Dragon capsule into space using Falcon 9s, both to resupply the International Space Station (ISS) under NASA commercial contracts and, perhaps, for other tasks.
In time, SpaceX hopes to certify the Falcon 9 and the Dragon for manned flight, and so compete also for the task of carrying crews to and from the station. Following the planned retirement of the US space shuttle fleet this year, the only way for astronauts and cosmonauts to get into space will be aboard Russian Soyuz craft.
The way ahead for NASA manned spaceflight is now somewhat unclear following the Obama administration's plan to deep-six the planned Constellation project, which would have seen Ares rockets and Orion capsules replace the shuttle. It's possible that private ventures like SpaceX may in future carry some or all NASA astronauts into orbit.
First, however, SpaceX needs to get the Falcon 9 flying. The firm appears unfazed by this week's test hiccup, and says: "We'll look to do the next static fire attempt in three or four days." ®
Sponsored: Minds Mastering Machines - Call for papers now open