Currys claims 3D TV 'first'
'We're taking orders,' chirps retailer
DSG chain Currys was today keen to tell World+Dog that it not only has "the first 3D TV in the UK" at on of its biggest shops, but that it's the "only" chain taking orders.
Taking orders, yes, but handing out product, no. And Currys didn't say when ordered tellies, transmitters and glasses will ship.
Not that we anticipate that this will trouble too many folk as you're going to have to be very well heeled to buy into 3D TV technology.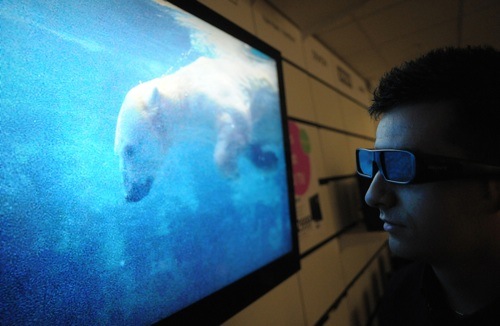 Big picture, even bigger price
Said "first" 3D TV is a Sony 52in job which retails for a pound under three grand. And don't forget, that doesn't include the essential 3D glasses. These cost £100 a pair. You'll also have to buy a transmitter to allow the TV to synchronise itself with the specs, and that costs £75.
Currys said it'll have cheaper Sony 3D TVs in time for the World Cup, but they'll set you back at least £1999. Ouch.
Can't make it to a Currys shop? You can order 3D TVs from 4pm today through the chain's website. The 52-incher is being demo'd at Curry's New Malden Megastore. ®
Sponsored: Minds Mastering Machines - Call for papers now open