Bowers & Wilkins Zeppelin Mini
Blimp wristed?
The sound is generated by a pair of front-facing full-range speakers which also produce the bass output that's ported through the back of the Mini to reflect back off whatever is placed behind the unit.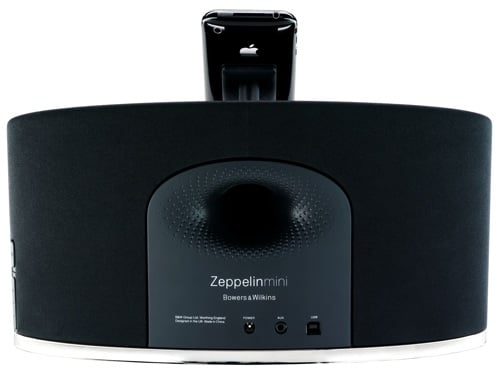 There's an outlet at the back to boost the bass
Which means you need to place it close - but not right up against - a wall or similarly solid, sound-reflecting material. Stick the Mini in the middle of the room, say, and the treble dominates. Push it back, though, and the sound beefs up nicely, especially if you nudge the sound up past 50 per cent.
In true audiophile fashion, the Mini lacks tone controls, so don't expect to adjust the sound beyond its volume - which can get ferociously loud if you push it to the top. You'll not want to do that using the minimalist controls mounted on the Mini's side but keep a good distance away and use the pebble-shaped remote control.
This is of a nice palm-friendly size, gloss black on top, chrome on the bottom. We're not sure about the chrome - it makes the remote look a bit cheap, though it clearly isn't. There is one nice touch: the battery cover has a rubber texture so it doesn't go sliding about on all that low-friction gloss.