WD targets Win XP users to ease 4KB drive upgrades
Sector inspector
Western Digital is to help Windows XP users more easily make the transition to so-called '4K' hard drive technology, the new standard for basic drive formatting.
Hard drive makers segment each data-storage platter into small, addressable units called sectors. For years, the sector size was set to 512 bytes - a standard set by IBM when it was developing the floppy disc drives for its original PC.
But now that HDDs deliver significantly greater capacities and higher rotational speeds than those ancient media, and with the subsequent addition of technologies such as error correction, 512 bytes is no longer the most efficient size. HDD vendors have settled on 4KB instead.
Operating system vendors have kept pace, with Windows Vista and Windows 7, plus Mac OS X Tiger, Leopard and Snow Leopard already able to interrogate a drive and, if they discover it uses 4KB sectors, align their read and write operations accordingly.
Version 2.6.31 of the Linux kernel also supports 4KB sectors, and the many open source disk utilities and drives are being updated too.
That just leaves Windows XP users without native support for the new format.
WD Field Technical Consultant Steve Perkins told Reg Hardware that the company's 4KB drives will operate is if they use 512B sectors, the firmware mapping one to the other transparently. This has no impact on read performance, but it admitted there might be a performance hit with write operations if the 512B and 4KB structures, and the partition layout, are out of alignment.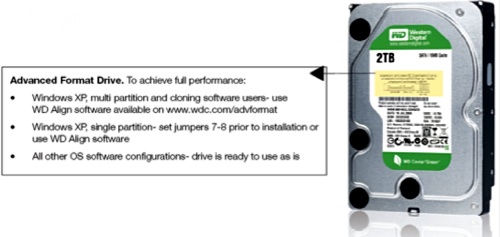 Perkins said WD is offering a software utility, WDAlign, that XP owners should run on new internal and external drives to partition and format them in a way that will ensure XP's 512B sector writes are aligned with the drive's 4KB sector structure.
The software can also be used to ensure a smooth transition when Windows Vista or 7 users clone their old 512B drives during an upgrade process that involves swapping in a new, 4KB drive. According to Perkins, not all Windows disk cloning tools are 4KB savvy, and misalignments - impacting write performance - could arise.
WD will put a guide right on the drive label to ensure users upgrading their hard drives are given adequate warning in case they need to run the software.
Hardware hackers unsure about software solutions can place a jumper on the drive's configuration pins instead, Perkins said, but only on drives that will contain a single partition and a clean OS install.
WD Caviar Green desktop and Scorpio Blue mobile drives are already shipping with 4KB sectors. It expects the rest to follow rapidly as new, more capacious models are introduced. ®
COMMENTS
Should we trust them?
I mean, they're selling us a 4KB drive upgrade, but will it actually 4000B rather than 4096B?
Real world
If you are in the real world where OS/2 servers are working and not likely to be changed in the foreseeable future - we reboot them once a year just to check and/or do a disk upgrade - you would know what you are saying is bull s**t.
We have some machines still using DOS because there is no way they are going to take down a working factory with machinery that just keeps on working to do an unnecessary upgrade of an OS.
I suppose it is different if all you want to do is play games or try and impress someone. Meanwhile the real world gets on with the job.
yeah thanks
...only a consumer [and I do mean that as a derogatory term] would have such a narrow minded view.
Some of us are part of [or manage] a corporate network infrastructure and as such cannot move to Windows 7. If M$ spent the time to talk to businesses about what they need rather than pandering to fashion and entertainment needs of consumers then we wouldn't have a problem. Why would anyone want an OS 'upgrade' that delivers no performance benefit and no useful new features.
Where in the OS portfolio of M$ is there an upgrade from XP for anyone who doesnt want to stream movies or organise their pictures? Where is Windows 7 workstation or any variant that doesnt f@ck up everyones network with its 'helpful' wizards?
Sectors
Your 64kB sectors are a different thing to what they are talking about. Hard disks have always been physically formatted to 512 byte sectors (sometimes known as a low-level format). The format that you perform via your operating system sets up its own set of allocation units using those physical sectors. Some disk formats confusingly also refer to their allocation units as sectors, but they're not the same thing. Others use different names, such as blocks or units.
Each of your 64kB OS sectors actually comprises 128 physical sectors, and the OS takes care of translating "give me sector #100" into "give me physical sectors #12800-12927" when passing the instruction over to the disk. What is changing here is that newer drives will have 4kB physical sectors. You can still have your 64kB OS sectors (comprising this time just 16 physical sectors each).
(Of course, the reality of this is somewhat more complicated, but this is the basic idea.)
@David 12
Yes, we're booting from EMC disks, I don't do the provisioning, but I seem to recall that the trick is to get the boot drive to be the lowest LUN number. Or, something like that, I forget exactly.