What's so bad about Samsung's Bada?
Samsung's iPhone pitch comes to life
All your contact are belong to us
Bada's aspirations aren't limited to applications running on the handset, Samsung sees itself as the perfect identity aggregator with its own social networking infrastructure which then links (server to server) to the various existing systems.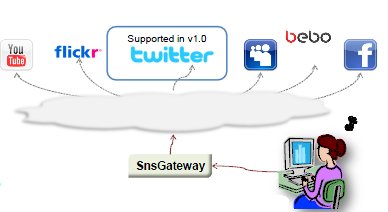 All your identities in one place, carefully looked after by Samsung
That provides a standard interface for applications that want to manage social interaction, with the inevitable limitations that such a standard approach implies - exemplified by Bada's refusal to recognise Facebook's "It's Complicated" or "In an Open Relationship", but perhaps the demographic Bada is aimed at doesn't have complicated or open relationships.
Not that this will be a problem for a while: for the moment the only identity Samsung is aggregating is Twitter (which isn't really aggregating at all - one can't aggregate a single identity - but we'll let that pass). Samsung promises that more platforms will follow real soon, and in the meantime users are welcome to make use of Bada's own social networking system.
That system coexists with all the rest, as the place with which all other identities are synchronised. Within Bada's social network punters can have degrees of friendship; which is nice, and all the normal interactions one would expect to see are supported. But Bada isn't limited to making friends and influencing people - the platform has dedicated APIs for creating notice boards as well as posting content to them, though it's not clear how or if such boards would interact with other social networks.
All of which is typical of the platform - everything you'd expect to see is there, but nothing fires the imagination or opens up new possibilities as one might hope, as demonstrated by the external sensor API. Bada devices can have sensors of proximity, acceleration, location, magnetic north, tilt, proximity and weather (yes, weather, which is automatically sourced from Weather.com).
Not all Bada devices will have all those (though the Wave does) but no Bada device will have any other sensors. There is no open-ended API to allow for unexpected developments or innovations.
Not only that, but the existing APIs are targeted at doing that which mobile phones already do. So the proximity API is Boolean: either there's something in front of the phone, or there isn't, which is great if you want your application to lower the volume when the handset is brought up to the ear, but useless if you've got something more interesting in mind.
Is Bada worth all this attention?
If Bada had come from anyone except Samsung then it probably wouldn't be worth pursuing, but Samsung shifts an awful lot of handsets and if the company decides to back Bada properly then it's going to be an important platform.
To achieve that Bada handsets will have to cost less that their Android, or iPhone, equivalents, which the Wave specification does not make likely unless Samsung really throws itself into Bada with a loss-leader. Failing that Samsung is going to have to squeeze its new platform onto less exuberant hardware.
Given the limitations of the platform, and the potential problems porting existing applications, we'd probably wait until Samsung has demonstrated that it can fit Bada into a feature-phone-priced handset before embarking on any serious Bada development. ®
Sponsored: Minds Mastering Machines - Call for papers now open