Toshiba Satellite U500 Ducati Edition
Superbike performance?
Other laptops have buttons that disable the touchpad, but only this one puts it half a centimetre above the touchpad itself, waiting for a rogue press that will leave you wondering why the cursor is no longer moving.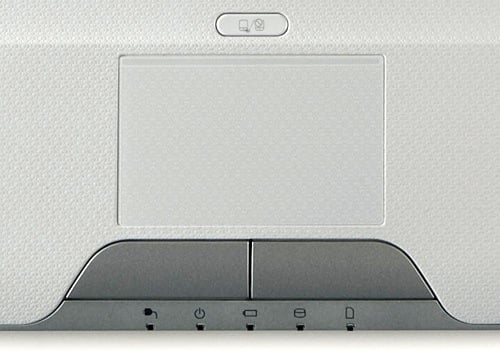 The touchpad disable button is a tad too easy to tap
There's another giveaway: a bright white bar that glows when the slightly smaller than expected touchpad is enabled. It's a daft idea, but it'll sure appeal to boy racers.
We're not sure who the keyboard will appeal to: it demonstrates a tad too much flex and rattliness for our taste, but that's not to say typing on it is a chore. And it's augmented with a touch-sensitive panel for calling up Windows Media player, starting and pausing playback, skipping tracks, and adjusting the volume.

Extra buttons, above the function keys, are touch-sensitive
It also has a key to disable its permanent white illumination and this - oh, joy - turns off the trackpad light. It's last remaining key glows green when pressed, and this activates Toshiba's Eco Utility, which runs the machine on reduced performance to cut its power consumption.
PCMark Vantage Battery Life Results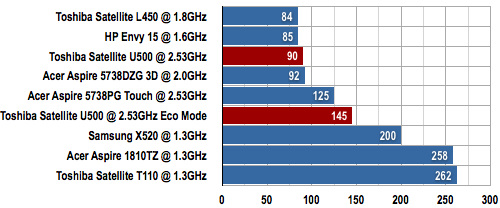 Battery life in minutes
Longer bars are better