Toshiba Satellite U500 Ducati Edition
Superbike performance?
They're just as thick, though: 317 x 231 x 30-38mm - the U500 is one bulky laptop for a 13in model. And you're looking at lugging 2.2kg of computer around if you buy one.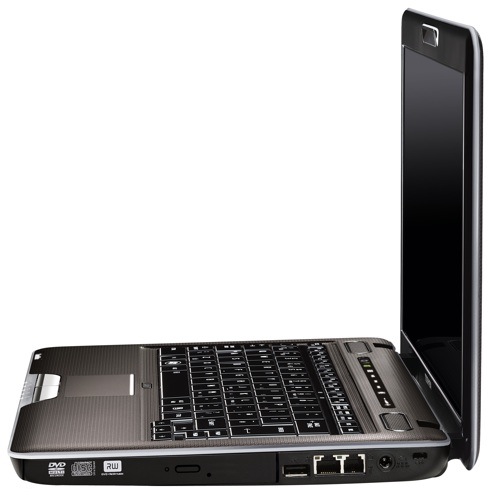 For a 13in machine, the U500 isn't very skinny - or light
If you're getting - physically - a lot of computer for the £799 Toshiba wants for the Ducati, you money buys you a fair bit of performance too. In PCMark Vantage, the U500 matched the similarly clocked Acer Aspire 5783PG Touch in all but the suite's hard drive test: its drive - a 5400rpm 3Gb/s Sata Toshiba MK4055GSX - put in a score 14 per cent below that of the Acer.
Branding aside, the big difference between the Ducati model and the other members of the U500 family is the graphics chip, and the U500's is rated by 3DMark 06 at 3587. That's well ahead of an machine with integrated graphics, but not a score that'll tickle the tastebuds of hardcore gamers. This is a discrete GPU that's toward the bottom end of what such offerings can do.
The U500's other refinements include an HDMI port, an eSata port embedded into one of the USB ports, and ExpressCard 54 bay and an SD card slot. All good stuff, but nothing that you won't see on a host of other 13in laptops. Ditto the other USB port, which will charge gadgets while the laptop sleeps.
The U500's audio system doesn't pump out the throaty roar of the laptop's namesake, but the two metal-grilled speakers placed above the keyboard put out a pleasant noise. Never loud, always clear, the sound is good, but could do with a bit more welly, especially for gaming.