Android - the winning formula for tablets and netbooks?
It's the only game in town, says the maker of the other iPad
The point here, though, is that a mass-market, small-footprint OS with a good range of applications to support it would fix many of these problems, and would be the only game in town aside from Apple. "Android will be mainstream, taking over a major portion of OS usage on devices intended to consume, rather than create, data," says Althaus. You could of course try doing this with Linux, but people have in the past, without creating significant ripples in the mass market (been there, done that).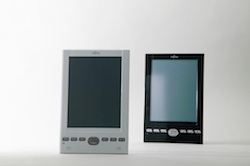 The FLEPia e-book reader
Android also has a couple of advantages over Apple and Microsoft platforms. It's only one platform, whereas Apple has felt the need to take a 'fat iPhone' approach with the iPad. It is conceivable that Apple might, as some of the more impressionable public prints predict, produce a second impression of the iPad based on Mac OS X, but besides having the potential to confuse the issue, a Mac OS X device would face the same kind of problems as Windows-based tablets do.
Microsoft also has the twin OS problem, or possibly the triple or quadruple OS problem. CE? Windows Mobile? Windows? Windows for Netbooks? So many backs to guard, so little time...
Android on the other hand is essentially just one OS. Google has another one that might conflict, but that quite probably won't take with the manufacturers if it's too tied into the Google cloud.
Android is also sort of open source, but owned by a company that's started to express an ominous enthusiasm for forking. If Google were a wicked company capable of concocting and executing an evil master-plan, you could conceive of Android turning into a fairly standard, well-supported, semi-proprietary platform that bore a gently declining relationship to Linux. And there's quite possibly enough inertia there for this to happen even if (as The Register suspects) Google turns out to be pretty poor on the execution bit of the plan.
From the hardware manufacturers' point of view, however, this could actually be positive - they're not going to view open source as any kind of religious issue, they're just going to want something stable and predictable that minimises their own support costs, and allows them some measure of differentiation.
And did we mention that Android is free? In Althaus' view this will certainly be an advantage in the Netbook space, and the financial arguments here will likely apply for other devices (ie consumer handhelds and tablets) which are intended to be light, portable, cheap, second or third computer, frequently replaced. From the vendor's perspective, he points out, Netbook economics are a nightmare. "The product has a six month lifecycle, it comes out at $350, and it drops to $250 six months later. Form factor is the only thing you can play with, and if you do anything radical it adds cost."
So it's a low-margin, undifferentiated business that's hard to make money out of, but granted it's a market with continuing demand, a free OS is some help. Why is that any different from Netbooks running Linux? Standardisation, less of a support requirement for the hardware manufacturer, the magic of the Google brand? Possibly.
But the profit still vanishes when the competition hots up, and you're still left with a low-margin, undifferentiated business. Which gets you back to consumer market consumption devices and trying to make money out of the content, or - as Fujitsu has decided - out of consumer and into vertical markets, where you get higher margins on lower volumes, and you make some money out of services. ®
Sponsored: Minds Mastering Machines - Call for papers now open