Pixel Qi sunlight-readable colour e-paper inbound
Mod-your-netbook kits in your hands in Q2
Pixel Qi - the 'Qi' is pronounced 'chee' - the company behind a type of e-paper that's not only colour and able to cope with video but is also claimed to be fully readable in bright sunlight, will be making screens available to hardware hackers by the end of June.
PQ's first offering will be a 10.1in display ideally suited to netbook use and, indeed, it's netbook owners to whom the company is pitching its DIY kit.
A similar kit has been available to hardware manufacturers since summer 2009, though as yet no major PC maker has committed itself to incorporating PQ technology into a future product.
PQ hopes the DIY kit will create a buzz among hardware modifiers and help get its name known.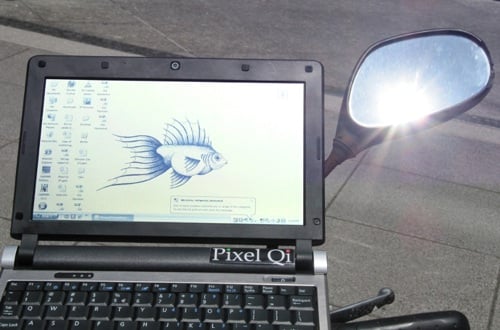 Pixel Qi's e-paper display: out in Q2
PQ founder Mary Lou Jepsen wrote in her blog yesterday that the kits will be out by the end of Q2.
The company's technology is based on the standard LCD production process to create screens that "use half to one quarter the power of a regular LCD screen, and when integrated carefully with the device can increase battery life between charges by fivefold", it claims.
The screen is essentially a variant on the existing transflective LCD screen - hence the fast response time. It works by bouncing incident light back off reflectors behind each pixel and back through the display. In the right lighting conditions, that allows the users to disable the backlight, hence the power saving.
PQ's screen also relies on the right mix of display coatings to make sure that colours aren't washed out by sunlight. ®
Sponsored: Minds Mastering Machines - Call for papers now open