IBM's Power7 pitch deconstructed
Big Blue polishes UNIX crown
AMD and Intel on the way
There are a whole lot of new chips coming down the pike from Intel and Advanced Micro Devices, and if IBM had waited until May for the initial Power7 launch, it would not be able to get business partners psyched up with a chart like this: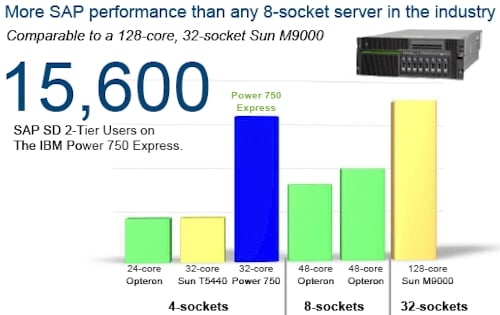 This chart compares the performance of various servers on SAP's two-tier Sales & Distribution (SD) ERP benchmark test. A four-socket Opteron 8400 box using the latest six-core chips does about the same amount of work as an Oracle/Sun T5440 server (also four sockets) using the eight-core Sparc T2+ processors. With 15,600 SD users supported, the four-socket, 32-core Power 750 server was able to do more than three times the work. (That machine is configured with AIX 6.1 and DB2 9.7 and uses the 3.55 GHz Power7 cores with all the threads turned on).
Both AMD and Oracle/Sun are on track to more or less double the performance of these machines by the middle of this year, and interestingly, AMD is not planning on offering an eight-socket version of the future 12-core "Magny-Cours" Opteron 6000 systems, and Sun will not push beyond four sockets with the Sparc T3s later this year, either. So the Power 750 will likely have a sustainable advantage here in terms of performance.
It is unclear how HP Integrity machines (what IBM still calls Superdomes in its presentations) using the new quad-core Itanium 9300s (formerly known as "Tukwila") will perform on the SAP SD benchmark, but HP did test what I presume was an I/O and memory constrained BL860c Itanium 9140M blade (with two 1.66 GHz cores in each of its two sockets) and was able to support 1,165 SD users on the same test running HP-UX 11i v3 and Oracle 10g, but this machine had average response times of just under two seconds (the norm back then) instead of sub-second (which is the norm now).
A 32-processor, 64-core Fujitsu PrimeQuest 580A server tested in April 2008 was able to handle 10,400 SD users, but with a nearly two-second response time. The Tukwila processors and their new memory architecture, based on the QuickPath Interconnect, are going to have to do a whole lot better to compete. And if they cannot compete on performance, they are going to have to make it up with price/performance. Ditto for the Sparc T3s and any servers from Oracle or Fujitsu supporting Solaris on quad-core Sparc64-VII chips.
Sponsored: Minds Mastering Machines - Call for papers now open