IBM's Power7 pitch deconstructed
Big Blue polishes UNIX crown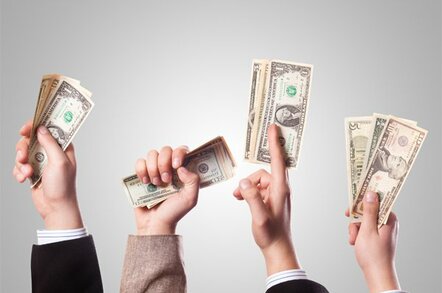 Some of IBM's Power7 machines have been shipping for several weeks, and the high-end Power 770 and 780 boxes start shipping this coming week. Now, the sales pitching and smooth talking by IBM and its local business partners will begin. What, exactly, will that sales pitch be?
That all depends on what gear you have installed, how old it is, who made it, and what applications it runs. One thing is for sure: IBM is trying to get out in front of a whole lot of upcoming server iron to show some good numbers.
Business partners make their own pitches to their customers, of course, but they take their cues from IBM. And as you well know since even before the Power Systems division was created from the merger of the formerly independent System i and System p divisions, IBM is keen on dividing and conquering the server market and bringing as many workloads as it can to the Power7 lineup.
This chart, culled from a presentation IBM gave to partners a few days ahead of the launch of the Power7 machines, succinctly sums up how Big Blue wants to push its Power7 boxes this year: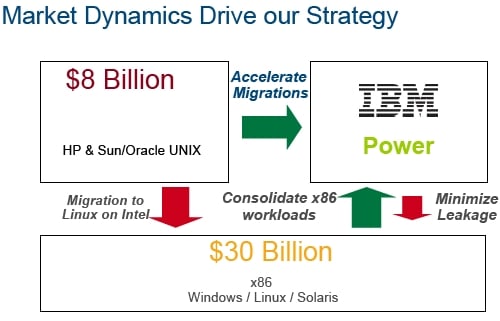 First and foremost, IBM wants to remind everyone that it has dominant Unix market share (in terms of revenues) and that compared to its $5bn in sales, Hewlett-Packard and Oracle (now that it has assumed control of Sun Microsystems) have a combined $8bn in sales, split about evenly between the two. IBM was able to make $600m in sales (presumably including software and services as well as hardware) last year on HP and Sun takeouts, and it wants to accelerate these. If a Power Systems migration is not in the cards, IBM is perfectly happy to bolster its share of the $30bn X64 server space by moving HP-UX and Solaris workloads to Linux on X64 iron.
While the chart doesn't say this, there is also some migration to Windows going on here and there. IBM also wants to go into HP, Dell, and Fujitsu shops using X64 iron and consolidate multiple workloads onto Power-based servers. This is a familiar plan, and one that IBM's AS/400 faithful have seen since PC-based server cards were first slapped into AS/400s back in the early 1990s and that was augmented as logical partitioning debuted back in the late 1990s on the AS/400. (And yes, well ahead of LPAR support for AIX that was worth a damn. But don't expect the Unix-centric Power Systems people to mention that).
As you can see, IBM wants to "minimize leakage" from Power Systems to X64 boxes, and it doesn't have any arrows that would show Power or X64 workloads moving to HP or Oracle Unix iron. Like that never happens. Of course it happens, and there are hundreds of millions of dollars in consolidation at stake there too. Interestingly, there is nothing in this chart that mentions i/OS specifically and that says there is a goal to accelerate migrations from X64 iron to Power-i/OS combinations or to minimize leakage of i/OS workloads to X64 iron. But there should be, and hopefully, there is even though the presenters briefing business partners did not get into the i/OS strategy.
Sponsored: Minds Mastering Machines - Call for papers now open