Intel investigates after retailer sold fake CPUs
'Sochet' LGA not as good as real thing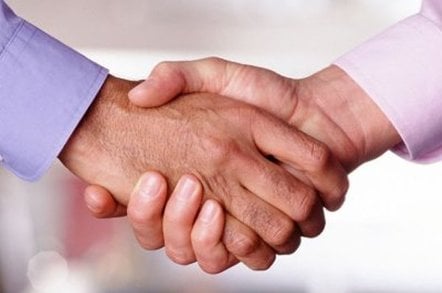 Updated Intel says it's investigating the sale of fake desktop processors by online electronics retailer Newegg in a scandal that's prompting outrage among customers and recriminations among sellers.
The counterfeit Core i7-920 processor package was so crudely put together that it would have been easy to spot even by non-technical buyers. According to a user named Nix posting to a forum on Hardforum.com, the outside box was delivered open and misspelled the word "socket" as "sochet". The label also contained a poorly spoofed hologram.
Inside, a square-shaped piece of aluminum masqueraded as the processor, and a fake mold was designed to appear as a fan. This YouTube video purports to show the entire contents as delivered to one customer.
In a statement issued in response to the incident, Intel warned customers that fake gear was indeed passed off as official Intel processors.
"Intel has been made aware of the potential for counterfeit i7 920 packages in the marketplace and is working to how many and/or where they are being sold," the statement read. "The examples we have seen are not Intel products but are counterfeits. Buyers should contact their place of purchase for a replacement and/or should contact their local law enforcement agency if the place of purchase refuses to help."
For its part, Newegg said it was conducting its own investigation into the questionable Intel CPUs.
"Initial information we received from our supplier, IPEX, stated that they had mistakenly shipped us 'demo units'," a statement issued Monday evening read. "We have since come to discover the CPUs were counterfeit and are terminating our relationship with this supplier."
Contrary to several published reports, D&H Distributing didn't supply Newegg with any of the CPUs in question, the statement said.
Hardocp.com and other websites reported that Newegg bought at least 300 processors from a certain distributor. The distributor has struck back, threatening legal action if the websites don't immediately retract the allegations.
Other computer users are also claiming to have received counterfeit i7-920 processors, including the person who posted this separate YouTube video. ®
This article was updated to report new information provided by Newegg.
Sponsored: Minds Mastering Machines - Call for papers now open