'Snowball Earth': Glaciers, ice packs once met at Equator
Recent piddling glaciations were luxury
American boffins say they have discovered evidence that almost the entire world was covered in sea ice and glaciers at certain points in the remote past, during so-called "snowball Earth" periods where the polar ice sheets met at the Equator.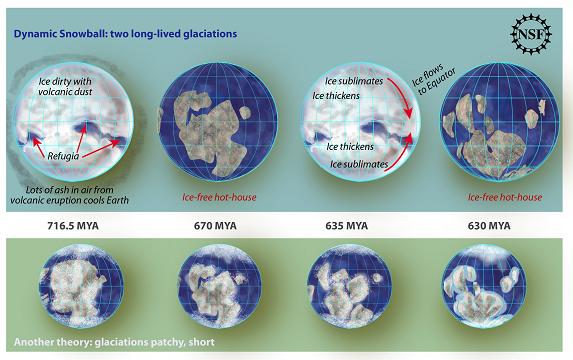 It were grim in the old days.
Geologists probing conditions seen in the ancient world have long considered that there was a cold spell known as the Sturtian Glaciation about 716 million years ago. However there has been disagreement in boffinry circles as to just how severe this glaciation was.
Now, researchers from Harvard uni in the States, funded by the US government, say they have found ironclad proof that there were glaciers right down on the Equator at that time. Tropical rocks from the Sturtian, which have since migrated up to remote northwestern Canada, show unmistakable signs of having been covered in big ice back then.
"This is the first time that the Sturtian glaciation has been shown to have occurred at tropical latitudes, providing direct evidence that this particular glaciation was a 'snowball Earth' event," says geology brainbox Francis Macdonald of Harvard.
"Our data also suggest that the Sturtian glaciation lasted a minimum of five million years," he adds.
"Ice may have covered the entire planet then," comments Enriqueta Barrera, federal science bigwig, "turning it into a 'snowball Earth'."
The new rock data is considered to add support to the theory that the planet has seen two runaway Snowball-Earth glaciations in the past, the Sturtian and the following Marinoan. There were also two similarly-extreme "hothouse" spells where all the ice melted, perhaps 670 and 630 million years ago. Thereafter more moderate glaciations and warmings have been seen.