As expected, night shots were poor quality. The video quality was also variable. HD images look clean, clear and sharp on outdoor shots, but indoors, noise was apparent. Still, the installed software is easy to use and it's quite straightforward to upload content to sites such as YouTube and Flickr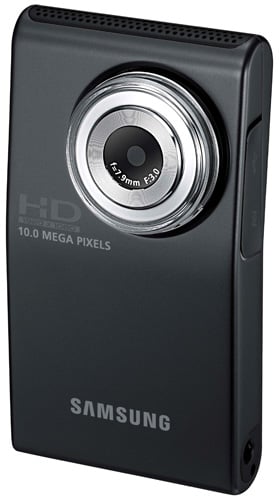 Looks good, but room for improvement
We were also perturbed by the jerkiness of the 1080p images. We tried running the videos on three different Windows PCs using different operating systems (XP, Vista and 7), processors (speeds ranged from 1.83GHz to 2.4GHZ) and amounts of memory (2 or 3GB). Even with all other applications closed, the 1080p video did not run smoothly. We also noticed this issue when we connected the HMX-U10 directly to a television. Shooting at 720p produced better results, delivering smoother motion during playback.
Fortunately, the playback issues aren't an issue with the footage per se. Transcoding the captured video to create our on-line review samples didn't exhibit these jerkiness problems, so it would appear to be a data throughput bottleneck issue during playback.
Verdict
The HMX-U10 is proof that beauty can only be skin deep. In terms of looks and design, it's head and shoulders above many of its rivals, but a clunky touch interface makes this a frustrating device to use, and both still and video quality are disappointing. If price is a concern, the U10 can be picked up very cheaply now, as the recently announced, image-stabilised, HMX-U20 is not far from the horizon. It remains to be seen if the quality and user interface issues will have been addressed, as there are many strong competitors around at this price point, and if Samsung wants to make its mark in this sector, it needs to raise its game. ®
More Camcorder Reviews...

Toshiba
Camileo S20

Sony
HDR-TG7VE

Sanyo Xacti
VPC-HD2000

Pure Flip
Mino HD

Samsung HMX-U10
Good looking compact camcorder with a range of HD recording options, but rather clunky to use.
COMMENTS
@AC 09:49 GMT
"Since playback from the device itself takes up considerably less cycles that record, I would assume, from you comments, that the record process is a bit cack resulting in dodgy files." No the recorded files were fine. otherwise the transcoded files would have audio that was out of sync.
Still all we want is a small device with 720p at 30 fps (not 25 or god forbid 24) and a 10x optical zoom. OIS and a single button to set the white balance. That would do me :)
Colour temperature
Again, Samsung seem to miss the simple things that are the difference between a good and a great product.
Colour temperature on the sample shots were all over the place.
Nice for weekend snappers, but it's not as good as a flip.
Also, no 25fps?
Not even as simple as that
It all harks back to vacuum tube TV cameras, no doubt still used because it conveniently exaggerates the sensor size for those who believe it is a straight measurement.
See http://www.dpreview.com/learn/?/key=Sensor_Sizes for the gory details, but suffice to say the actual size is about two-thirds of the numeric value.
A 1/2.3" sensor is actually about 7.7mm on the diagonal.
So no 25fps mode then?
Thats a shame and no image stabliser and optical zoom.
So near.......
standard
because it's a standard CMOS size - 1/2.3 inch.
it would be approximated to 11mm, but is an imperial size.
something tells me u don't own a set of spanners....