David Atherton: 'I don't miss Dabs'
Missed it the first time? Here it is again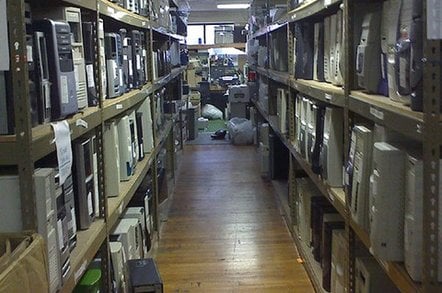 Interview Part 1 This is part one of a two-part interview with Dabs founder and channel legend David Atherton, which we ran earlier this year. We enjoyed it so much, we thought we'd highlight it again, in case anyone missed it first time round. Part two is here.
"I logged on to my bank account on about 3 May 2006, and found there was £24m in it. That was quite a shock. It doesn't seem real until you get the cash," says David Atherton, founder of Dabs.com.
Now, close to four years after selling his business to BT, Atherton is ending his break from work and reflecting on his period away. He made his first industry appearance since the sale at last weeks TCA conference in Leicester and spoke exclusively to The Register.
During his sabbatical he did the rich man's stuff of buying a house, transforming it into his £3m Bolton home, and getting a boat and house in the Canaries. He was "generally taking it easy".
There was also a nightmare period. He was also successfully defended against sex assault charges, spent a week in prison, and a month in The Priory as part of his bail conditions.
Selling the business had meant a huge change in Atherton's lifestyle. "I'd no plan," he says. "All my time at Dabs I had no other interests, it was 100 per cent Dabs." But as part of the deal with BT he left the business, and was restricted from joining or starting competing businesses.
"I had no particular desire to get into any other kind of work," he says. "When I stopped at Dabs I partied all the time. I went out every night. Loads of women, loads of mates, loads of laughs. "They [BT] told me they didn't want me to have any contact with people at work. I completely changed my social group from work people to non-work people. If you've no job, you can sleep all day, can stay up until four or five in the morning pretty much seven nights a week. I got a whole bunch of mates who were all-nighters for the period I was a playboy in Manchester."
At its peak he was getting £20,000 a week in interest on the sale money. (The drop in rates mean this is now down to around £2,000.)
In August 2008 he was arrested, accused of assaulting a woman he'd met during this playboy period. In May 2009, after a 17 day trial, jurors at Leeds Crown Court took less than an hour to return unanimous verdicts of 'not guilty' on all five of the counts Atherton faced – these included attempted rape, making a threat to kill and false imprisonment. He was awarded all his legal costs.
Atherton was vindicated by the swift result, and now, with some distance on the ordeal, says the Crown Prosecution Service, were the real villains in the situation. He says an outcome of the experience is that he has given up taking cocaine, and knows what the inside of a prison cell looks like.
"I was a heavy coke user like a lot of people in the industry were," he says. "But when you stop working, the physical processes are different."
He uses a driving analogy. "If you're driving an M3 [a speedy BMW motor] down the motorway at 100 miles an hour, you're red lining and you can do it all day. If you sit in your drive, put it in neutral and red line it for 10 minutes then you mess the engine up. You're taking the rocket fuel and you're not rocketing."
During his week in prison awaiting bail to be set, Atherton read five novels. "The only horrible thing about being in gaol is its boring. Its not like Porridge [a UK prison sitcom], its like a Travel Lodge but everything is nailed and bolted down. The food's OK."
He has no regrets about selling the business and doesn't feel attached to it. He transferred a telephone sales business into a 'perfect' online system and is proud of that. But once he could no longer improve the business processes, and success was down to growing sales, Atherton admits he stepped a little back from the Dabs operation.
"In the early years I was doing 60 to 70 hour weeks, but in later years I did 30 hour weeks. If you've got 200 staff and you're busy yourself why don't you employ one more person – it'll have to be a senior one but still..."
He also has no regrets about selling when he did, even though in 2004 offers of £90m had been on the table that didn't come to fruition. In 2006 the peak had been passed.
"I sold on the downward slope," he says, "but I will never think - 'Oh, if only I'd got £60m more'." ®
The second part of this interview includes Atherton's future investments, why he's no longer interested in the IT business and why he believes magazine adverts offered a better return on investment than Google AdWords.