Nvidia drives in second-gen Ion
Revamped HD graphics for netbooks
Nvidia's first Ion offering targeted those machines with a swap-out integrated chipsets. Lose Intel's feeble graphics and gain a rather more powerful Nvidia one, the GeForce 9300M. For netbook makers, it was a largely straightforward exchange.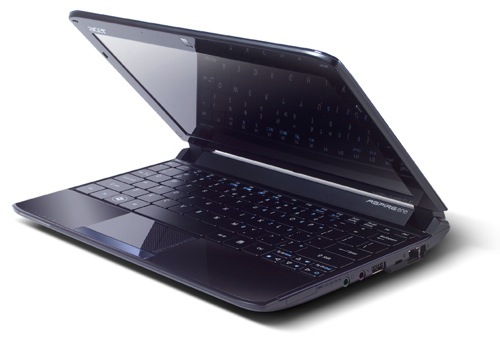 Acer's Aspire One 532G: eight-core Ion 2 on board
Intel's counter was to move the graphics off the chipset and into the CPU, more a bid to reduce its own platform's power consumption than an attempt to fend off a rival. But many observers thought that Intel's move would have that effect nonetheless. Nvidia can't, after all, cut such a GPU out of the loop.
Well, Ion 2, which makes extensive use of the company's Optimus technology, doesn't seek to. Quite the contrary, it relies on the GMA 3150 to act as a graphics co-ordinator and to ensure power isn't wasted.
Ion 2 is essentially a discrete GPU that ties into the Atom 2.0 platform's NM10 chipset - the other part of Intel's 'Pine Trail' platform - over the PCI Express bus. At all times, the image you see on the screen is managed by the GMA 3150, but Optimus detects when some extra graphical welly is required, and kicks in the GPU to handle the rendering and, if necessary video decoding.
Ion 2 has its own, directly connected bank of up to 512MB of DDR 3 memory in which to render video and 3D, and it then pipes the complete picture through the PCI Express pipe and into the GMA 3150's frame buffer, which has been grabbed from the netbook's main DDR 2 memory bank.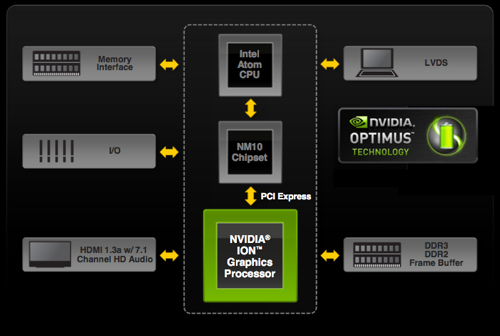 Tying it all in: Ion 2 in a netbook
The Ion 2 GPU remains completely powered down until - if it ever is - needed, and powers right down again when the HD video player app or 3D game has been quit. So no battery power is wasted by keeping a second graphics core ticking over.
Sponsored: Minds Mastering Machines - Call for papers now open