LG Windows Phone 7 handset out in Q4
September release: premature speculation
LG showed off its upcoming Windows Phone 7 Series smartphone this weekend.
But despite recent speculation that the handset would debut this coming September - when Windows Phone 7 is itself to be released - LG confirmed that buyers have a longer wait than that.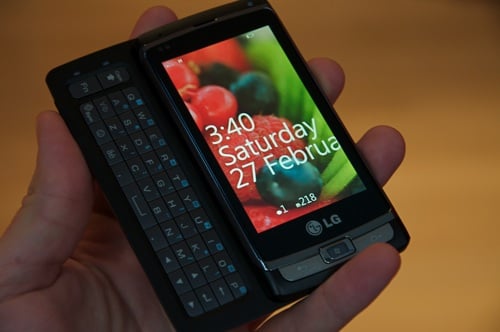 LG's Windows Phone 7: no name, no specification yet
LG described the unnamed handset as an "early prototype" and said that the device's technical specifications have yet to be set.
As you can see, though, the gadget presents Windows Phone 7's new, Zune-derived UI and has an HTC-style slide-out Qwerty keyboard.
Microsoft unveiled Windows Phone 7 at last month's Mobile World Congress show in Barcelona. The OS is due to debut in September, but phone makers aren't expecting to release handsets based upon it until October at the earliest.
LG said it is "aiming" to ship its first Windows Phone 7 device sometime in Q4. ®
COMMENTS
........ (and silence)
<tumbleweed rolls past>
Who cares about Andriod
I'm particularly excited to see what MS can deliver with this new incarnation of Windows Mobile. There is absolutely NOTHING that interests me about Andriod. Surely I cant be alone in this?
Brains
its just a mock up, it obviously will go landscape they are just showing the keyboard and the front screen. If it was a picture of a blank text it wouldnt really be showing you anything of interest with windows 7 series
Landscape?
I'd rather the phone display reflected the way it's held, rather than the state of the slider. The N95 was much improved when they changed that. This one looks like it's being held in portrait mode.
As for the month not wrapping or zooming, from what I've seen of 7, the phone display is a viewport on a larger display, which would mean that wrapping or shrinking that text to the screen would break the style of the display.
I can't say I'm particularly bothered by it. It's not like I wouldn't be able to see at a glance what the month is from that.
I'd still like an Android version though...
Win7? Why Bother?
This is a miss by LG. If they had offered this on Android, it would have been an upgrade to all the Droid fans complaining that they don't have a decent slide-out keyboard alternative to the current touch screen fashion.
Hell, I'd look at getting it too if it was an Android release.