Hackers go on Tory-bothering spree
Dave's websites made to spew 'Vote Labour' spam
Conservative party websites have been attacked by mischievous hackers over the weekend, who defaced some of the sites and sent spam messages from others urging people to "vote Labour".
Chris Boyd of Sunbelt Software, who has analysed the attack , said that the attackers gained access to the admin panels of various sites including ashfiedlconservatives.com, boltonsoutheastconservatives.com and paulbristow.org.uk (a prospective Tory MP) to deface at least one and play around with the email functions on some of the domains. The email function on the Conservatives InTouch website was reportedly made to send the message "Vote for Labour - NOT US!".
The sites have been fixed, but screenshots of the hack are circulating on underground forums, as documented by Boyd. The hacker lambasted the poor password security setup on the sites that he claims facilitated the attack in one of these screenshots. He also claims to have gained access to email lists.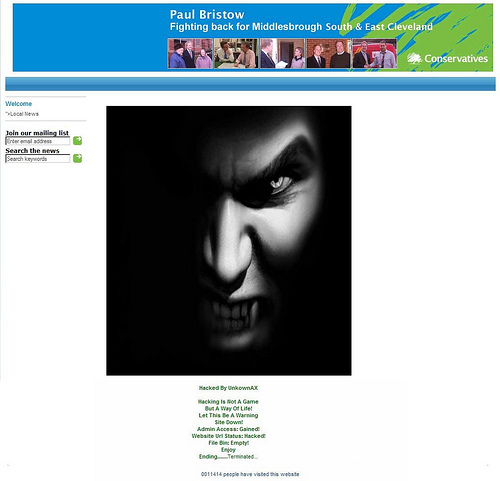 Tory site gets a revamp
UK politicians are placing more importance on getting their message out via websites or through social media channels such as Twitter in the run-up to the general election. This of course puts political hackers up against mischief-minded hackers. The results haven't been pretty.
This latest skulduggery follows last week's phishing attacks in which the Twitter profiles of several government ministers were pwned. ®
Sponsored: Minds Mastering Machines - Call for papers now open