Acer H5360 3D projector
Play 3D games and movies on your wall
The H5360's remote control handset is small and uncomplicated. You will probably only ever use the Menu, directional, quick-menu and on/off buttons anyway, since the others all look the same in a darkened room and have exactly the same shape. The action on the buttons is a bit spongey, but acceptable. In an inspired example of product design, Acer allows you to house the handset in a recessed slot on top of the projector case, so you should never lose it.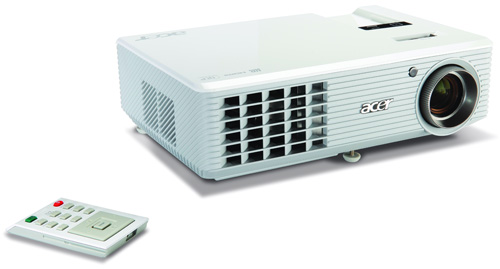 Simple design, highly portable and easy to operate
As with practically all other projectors, fan noise (at 32dBA) remains an issue, but such is the brightness of the image that you can happily enable the only very slightly less brilliant ECO mode in order to reduce the fan noise to 27dBA. Our power tester revealed that ECO mode caused power consumption to fall from an average 243W to 195W. In standby mode, the H5360 consumes a mere 0.8W.
Verdict
The H5360 is a very good 720p widescreen portable projector that produces fabulous images, including terrific 3D Vision performance. However, after all the song and dance about 3D readiness, we could have done without the trip to Maplins in the pouring rain for a £16 adapter in order to actually make it work. Certainly, a DVI port would simplify matters and some documentation of the 3D functionality would not have gone amiss either. Without these issues, we would have added another 10 per cent to our modest rating. ®
More Projector Reviews...

Optoma
HD20

BenQ
Joybee GP1
Mini projector

Hitachi
CP-RX80

LG
HS102
Ultra Mobile projector
Sponsored: Minds Mastering Machines - Call for papers now open

Acer H5360 3D projector
Affordable, super-bright and crystal clear DLP projector that supports Nvidia 3D Vision.