Acer H5360 3D projector
Play 3D games and movies on your wall
In fact, the image was probably the brightest we have tested on a portable projector in a long time, so its maximum throw distance claim of 10.3m (giving a 300in diagonal image) is not just wishful thinking. The H5360 is rated at 2500 Ansi Lumens for brightness and 3200:1 for contrast.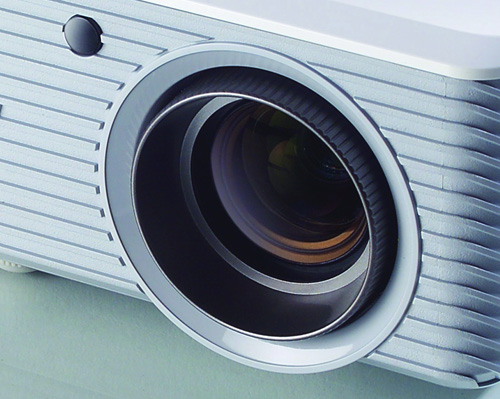 One of the brightest portable projectors we've seen in a while
At more realistic living room and meeting room distances between 1 and 5 metres, you should only need to dim the lights, not switch them off. The 200W Ozram lamp has a quoted life of 3,000 hours (4,000 in ECO mode) and is user-replaceable.
But let's talk about 3D. The H5360 supports the emerging DLP 3-D standard and NVIDIA's 3D Vision technology. We tested the latter with the help of a rocking NVIDIA games PC and 3D Shutter eyeglasses pack. Things did not start off well: there is no DVI port on the projector, nor do any of the cables supplied by Acer with the unit come with a DVI connector at one end.
The 3D Vision signal is digital, you see, while the projector's standard computer port is an analogue VGA mini D-sub. So we plugged our own trusty DVI cable into the computer and then trudged off to Maplins to buy a DVI-to-HDMI adapter to allow us to plug the other end into the H5360. Thank heavens the NVIDIA 3D Shutter eyeglasses pack came with connection instructions, because the Acer documentation failed to mention any 3D capability at all. Sorry, Acer, this is not what we call '3D Ready'.
That said, once we completed all the rigging – and there is quite a lot of it with all the USB and serial connections too – the 3D images produced by the H5360 were absolutely fantastic. 3D movies and games on this device looked not just impressive but amazing.

All connectors are mounted together at the rear, but why no DVI port?
Our only disappointment during playback was that the projector failed to act sensibly when we inadvertently played a 3D game at 1080p: the games software would show a message to say that 3D was disabled at the current resolution, while the H5360 insisted on trying to display a crazy flickering image, as if it didn't realise it was a lost cause.
Sponsored: Minds Mastering Machines - Call for papers now open