Virgin Media admits broadband upgrade 'confusion'
But consumers need to act when their contract ends
Virgin Media has denied claims from broadband customers that it is cheekily charging them more to upgrade their cable broadband packages than it asks new punters to pay up.
One customer who contacted Reg Hardware told us that punters on Virgin Media's 20Mb/s XL tariff who log on to the account management section of the VM website are currently being told the upgrade to 50Mb/s XXL broadband will cost £52 per month.
However, potential customers checking prices on the main VM website will see that XXL costs £38 pounds per month when similarly ordered without a phone or cable TV package.
Over a year, that's a £168 difference.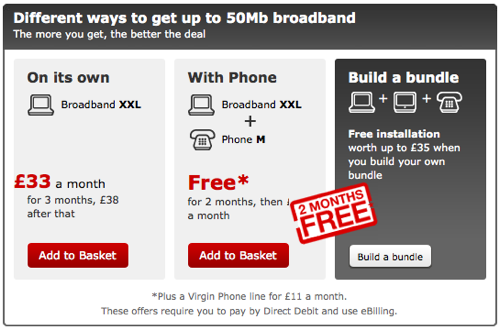 Virgin Media XXL: New customers see this...
Subscribers who contact VM to query this discrepancy are immediately given a "special offer" of XXL at £38 per month, we found when we called the ISP's sales line. However, this only happens after the caller has got through to a customer service representative. Initially, callers are told by recorded message that it's easier to upgrade their broadband by going online.
Easier, maybe - but more expensive, surely?
A VM spokesman told that, no, it isn't. Customers who select the £52-a-month update package on the website will nonetheless find they pay £38 a month when they have reached the end of the update process, he pledged.
"The [£38] headline price is correct," he said. "The basket lists the full, unbundled price," but customers will only pay the 'discounted' price.
Indeed, when we checked back with the website, selecting the £52 option tells you to call the sales line, where, as we found, you will be offered the £38 package.
The spokesman admitted that presenting the higher price up front is "slightly confusing" - and one that may put some customers off upgrading at all - but claimed this was an "anomaly" that VM's web team are aware of and working to fix. He could not say when this might be done.
Upgrading enters you into a new 12-month contract with VM, he said, but he stressed that, at the end of that period, the price would not rise to £52.
Other packages do default to a higher rate once the initial 12-month contract period is complete, he said. For example, the XL tariff rises from £30 a month to £37 a month.
The best course of action open to upgraders is clear. You should plan for the end of your contract and call your ISP - whoever it is - to ensure you're getting the best deal when it has run its course. At that point, consumers can switch providers without penalty, and ISPs eager to retain a customer will offer them a better deal than the default price.
The downside is being tied to a further 12-month contract, which may be expensive to exit before the completion date. But the advantage is lower monthly payments. ®
Sponsored: Minds Mastering Machines - Call for papers now open