Patterned storage media almost sewn up
Insulate those bits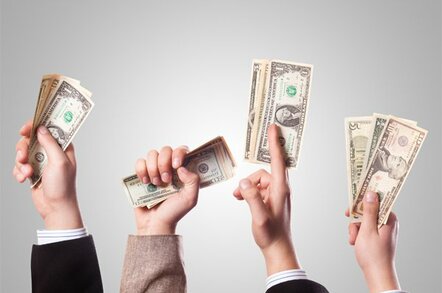 Comment Patterned media is stepping closer with Molecular Imprints announcing and selling a system for pilot and low-volume manufacture.
Hard disk drive (HDD) Perpendicular recording will crash into a barrier as its magnetised domains get smaller and smaller heading to and beyond 800-900Gbit/sq in areal densities. The problem is that the domains will be packed so closely together that they can influence each other and become unstable.
With patterned media these smaller magnetic domains on disk drive platters are kept immune to influence from neighbouring bits by being surrounded by insulating material. These insulating walls have somehow to be constructed or laid down on the disk substrate. Intevac, Obducat and Molecular Imprints (MI) are developing and selling systems to do this.
In MI's Jet and Flash Imprint Lithography (J-FIL) process, the disk substrate has the pattern placed on it by being first sprayed with picolitre-scale droplets by an ink-jet printer-like machine. The drops are then formed into distinct nano-scale patterns by having a template pressed against them, hence patterned media. (See an overview video of the process here.)
The NuTera HD7000 is said to enable sub-20nm lithography at production speeds - up to 300 double-sided disks per hour - and can produce HDD platters with areal densities of 1Tbit/sq in and beyond. It requires about half the fab footprint space of the previous Imprio HD2200 platform.
MI has already sold an HD7000 to what it describes as a leading HDD manufacturer, and it will ship this month. That means one of Seagate, Western Digital, Toshiba, Hitachi GST and Samsung is moving into patterned media pilot production. MI has sold a total of 13 nano-patterning systems to the HDD industry so far.
Toshiba is certainly interested in patterned media. It has upgraded an MI Imprio 250 nano-paterning system to the faster and higher resolution Imprio 300 model. The systems are used at Toshiba's corporate research and development's Device Process Development Centre.
A nano-patterning system like the Imprio can make master templates which are then replicated by MI's Perfecta TR1100 product. These daughter templates, an order of magnitude cheaper to manufacture than the master template, are used to produce the actual HDD disk substrates with the nanometre-scale patterns on them. Hoya Corporation, a merchant mask and HDD disk manufacturer, had bought one of the two TR1100s sold by September last year.
At that time MI had sold ten nano-patterning systems to the HDD industry, so it has sold three more since then. Mark Melliar-Smith, MI's CEO, claims: "our (J-FIL) technology has become the standard for the patterned media technology transition. ... Molecular Imprints is also partnering with our customers to accelerate the process integration and yield-learning associated with taking this advanced technology from development to mass production."
With TDK indicating a slow down in areal density growth rates it's likely that any patterned media product won't appear until 2012 or beyond. Our guess is that the first ones will be in the 2.5-inch HDD product space as this is a growth area and capacity per platter will be a key aspect of the drives. ®
Sponsored: Minds Mastering Machines - Call for papers now open