'Promiscuous slapper fruitfly sluts prevent mass extinctions'
Also: Ant royalty 'devious', implicated in BO-based plots
NSFWFI Hot hot news from the world of insects this week, perhaps with insights to be gleaned into the conduct of human relations.
It has emerged from research on the sex lives of female fruit-flies that the practice of remaining faithful to just one bed partner is fantastically genetically unwise and can render an entire population extinct within generations.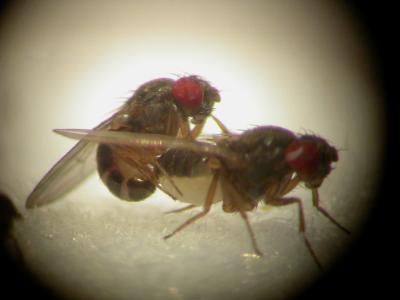 Don't worry about my husband, it's for the good of the species
Meanwhile among ants, it has emerged that while ordinary working-class ants conform to the traditional image of their kind - in other words they are hard-grafting, productive and ready to sacrifice themselves for the good of the community - one cannot say the same thing at all of the royal ruling class. Ant queens have been found to be "much more devious than previously thought" and to compromise the welfare of their colonies by plotting to have rivals slaughtered by gangs of proletarian thugs.
The fruit-fly boffins, based in Liverpool and Exeter - and who released the accompanying incendiary pic - say that it is critical that females behave like slappers or disaster will ensue.
"We were surprised by how quickly – within nine generations – a population could die out as a result of females only mating with one partner," says Exeter prof Nina Wedell.
"Polyandry [among humans, the practice of ladies having a harem of several husbands] is such a widespread phenomenon in nature but it remains something of an enigma for scientists," adds the prof. "This study is the first to suggest that it could actually save a population from extinction."
It seems that standing by your man is fatal among Drosophila pseudoobscura due to the chance that a "sex-ratio distortion (SR) chromosome" will appear in a male fly, which results in all of the Y chromosome male sperm being killed before fertilisation. The resulting all-female broods of offspring will pass this chromosome on to their sons, leading to more all-female broods and so on until there are no males left at all and the population dies out.
Wedell and her fellow boffins established this by setting up several isolated populations of the flies, in some of which strict morals were enforced and the females were allowed to mate with only one partner. In others they were allowed to put it about a bit, and did so freely.
The enforcedly righteous societies died like, well, flies - with five of 12 such populations extinct within 15 generations. The dirty-slapper societies, by contrast, fared much better. This was, according to the researchers, because males carrying the fatal SR chromosome produced only half as much sperm as their fellows, meaning that in a more relaxed fly society they were "out-competed".
Meanwhile among the ants, boffins in Copenhagen had harsh words for the moral standards of ant royalty. It seems that in some ant colonies there are multiple, competing queens - and these queens plot and scheme against one another, quite willing to "compromise the welfare of the entire colony in order to retain the throne".
It seems that after a while the worker ants get sick of this. Mobs of young workers "slaughter" the surplus female overlords until only one remains. Poorly understood negotiations between the rival aristocrats and the worker mobs are apparently carried on via the traditional ant communication medium of B.O.
"Execution of the most selfish ant queens by workers would increase the incentive for queens to be team-players that work hard to help the colony. This rudimentary 'legal system' could have helped ants to evolve their highly advanced societies, just as in humans", says lead author Luke Holman.
There's more from the universities of Exeter and Copenhagen here and here. ®
Sponsored: Minds Mastering Machines - Call for papers now open