US Navy SEALs' new airlock minisub - made in Blighty
Brit knowhow cracks 'exploding iPod' battery-inferno snag
Plymouth-built S301 brings the men in black rubber in from the cold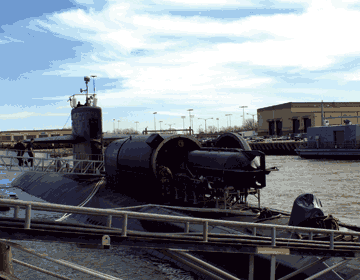 Mobile parking facilities available.
It had been thought that the SEALs would content themselves with a somewhat modernised wet Mark 8-style minisub, the proposed Shallow Water Combat Submersible: but then news emerged of the S301. Following up on our original report, the Reg has found that in fact the S301 was not produced in America by Submergence Group: it was actually designed and built for Submergence here in the UK by Plymouth firm Marlin Submarines (aka MSubs), in which Submergence owns a substantial stake.
We spoke to MSubs' Paul Moorhouse this week, who confirmed that the S301 can carry two pilots and six frogmen in the dry, and can lock out the passengers in one cycle. Better still, it is of a size to fit in existing US Navy DDS docking bay/hangars aboard mother submarines - the necessary sliding trolley is being built for tests. In effect it solves all the problems the expensive ASDS was designed to solve, for far less money.
"I do feel sorry for Northrop, though," says Moorhouse. "They took a lot of criticism over the ASDS, but the main problem was the battery and that wasn't from Northrop. Anyone can have problems with the new battery technologies - look at all these exploding iPods and laptops and so on. It will take time to eliminate this kind of thing."
The new generation of submarines, like the latest electric cars, are seeking to replace the well-understood but low capacity batteries of old with newer technologies such as lithium-ion. Problems with these are rarely worse than embarrassing in a gadget, but a battery intended to power a car or the still bigger unit needed for a mini-sub can be a serious fire and explosion risk.
Moorhouse is confident, however, that the S301 won't suffer from runaway battery overheating of the sort which did for the ASDS.
The British Special Boat Service (SBS, the maritime counterpart of the SAS) are known to possess a single US-style dry hangar which has been fitted at times to Royal Navy nuclear subs. The SBS also have some Mark 8 wet minisubs, too.
Sponsored: Minds Mastering Machines - Call for papers now open