Google eyes hypegasm fuel cells for 'whole data center'
Could the Googlenet run on Vodka?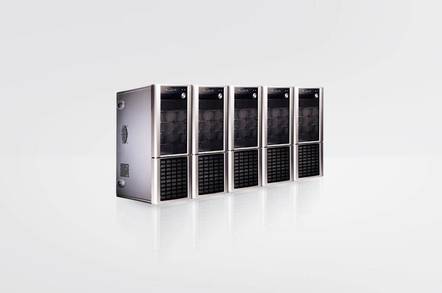 As Bloom Energy officially unveiled its much-hyped solid oxide fuel cell server - a "parking space"-sized device that converts air and fuel into electricity - Google co-founder Larry Page said the company hopes to eventually run an entire data center using the technology.
"I'd love to see us having a whole data center running on this at some point - when they're ready," Page said during a press conference Wednesday announcing the Bloom Energy Server, according to CNet.
Google serves up its myriad online services from a global network of roughly 35 data centers, all custom designed. According to a presentation detailing a recent update to its data center infrastructure, the company intends to expand its network to between one million and 10 million servers, encompassing 10 trillion directories and a quintillion bytes of storage. And all this would be spread across "100s to 1000s" of locations around the world.
Bloom Energy is backed by venture-capital man John Doerr, who helped fund Google's rise from search engine to world power, and the Mountain View Chocolate Factory was the energy outfit's first customer. On Sunday, US television news magazine 60 Minutes reported that Google has been running four "Bloom Boxes" in a data center for the past 18 months, but this is a tad misleading.
A Bloom Energy representative tells us that Google is using its Bloom Energy Servers to power an office building at its corporate headquarters that contains an "experimental data center." In a video aired at Wednesday's press conference, Google indicated that its Bloom Boxes are running an "R&D center."
Google has yet to respond to our requests for comment. But it did toss a statement at Data Center Knowledge earlier in the week. "Bloom fuel cells are powering a portion of Google's energy needs at our headquarters right here in Mountain View," the company said. "This is another on-site renewable energy source that we're exploring to help power our facilities."
Bloom Energy says its devices provide 100 kilowatts (kW) of power "in roughly the footprint of a parking space," and you can see Google's quartet of devices in the 60 Minutes piece. Google is using natural gas with the boxes, but the Bloom Energy says the devices can convert "nearly any fuel source," including natural gas, ethanol, biogas, sun, wind, or even, well, Vodka.
eBay is using biogas with the five boxes it's testing at its corporate headquarters in San Jose. The online auction house installed the devices nine months ago, opting for biogas made from landfill waste. eBay chief executive John Donahoe says the units provide about 15 per cent of the power on its campus.
Judging from Larry Page's comments, the boxes are still very much in the testing stage. Speaking with 60 Minutes, Bloom Energy founder K.R. Sridhar said that three weeks after installation of Google's headquarters, one of the boxes "just stopped" and that there were subsequent problems with clogged air filters. Sridhar indicated that the latter problem could be solved by "turning the system around."
While working at NASA in the 90s, Sridhar produced a system designed to produce oxygen for life on Mars, and after NASA's Mars mission was scrapped, he reversed the system - pumping oxygen into it - to produce his fuel cell. Oxygen and fuel combine within the cell to produce electricity.
The pitch is that the units - made of thousands of flat ceramic fuel cells - will provide a "cleaner" and more efficient alternative to the traditional electrical grid. The units cost between $700,000 and $800,000, and the company claims that buyers can expect to recoup the cost in energy savings in three to five years.
At the moment, the company is only selling its "parking space" units for commercial use, but it plans to sell smaller residential units in five to 10 years. ®
Sponsored: Minds Mastering Machines - Call for papers now open