Toshiba Camileo S20
HD video on a budget
We were fairly impressed with the Camileo S20's video recordings in both 1080p and 720p modes. Motion was smooth, colours were vivid and, in good light, noise levels were low. Unsurprisingly, night shots did suffer from noise, and the built-in video light was pretty ineffective - which isn't surprising, when you consider that it only offers 11 lux illumination when the Camileo S20 is 50cm away from a subject, and just 1.2 lux at 1.5m distance. Resolution was not as sharp as we've seen on a few other models, but lest we forget the price of this camcorder.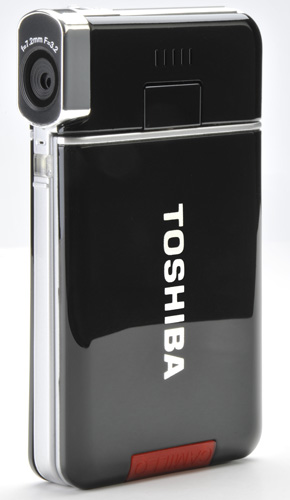 Great value, but menu navigation can be a bit of a fiddle
With the time lapse feature you can select an interval of one frame every one, three or five seconds and here, the mini tripod came in very handy. It's great fun to use and even a 24-hour time lapse recording in WVGA mode will only notch up a 114MB file, so it doesn't use that much memory card space. Motion detection too, worked well, although be warned, just moving the Camileo S20 is enough to activate it. Audio quality was pretty decent, although wind noise is noticeable.
As a still camera, the Camileo S20 is adequate. There was little difference between standard and 'high quality' modes but in good light it can deliver reasonable results. Interior shots were a little soft and noise was noticeable just avoid the high ISO settings, which simply boost noise levels without helping much in low light. Likewise, the 4x digital zoom is best ignored, as this simply reduces picture quality.
Verdict
When you consider what you get for your dosh, the Camileo S20 offers very good value for money. It's compact, includes HD video, has loads of useful accessories and offers a pretty good performance. Non-Windows users would be wise to check thoroughly its compatibility, as the workarounds maybe too much bother. Yet those among the MS faithful looking for a budget HD pocket camcorder should certainly give this model some thought. ®
More Camcorder Reviews...

Sony
HDR-TG7VE

Toshiba
Camileo P30

Sanyo Xacti
VPC-HD2000

Pure Flip
Mino HD

Toshiba Camileo S20
A decent performer with a nice price and a good set of accessories. Shame about the clunky menu system though.