Toshiba Camileo S20
HD video on a budget
Powering up the Camileo S20 is simple – you just twist open the LCD screen and the camcorder turns on. It takes around six seconds from switch on to recording. Fold away the LCD screen, and the camcorder switches off. There's also a power button on the left of the camcorder body, which is concealed when the LCD screen is folded away, so you can never inadvertently switch on the Camileo S20 when it's in a pocket or bag.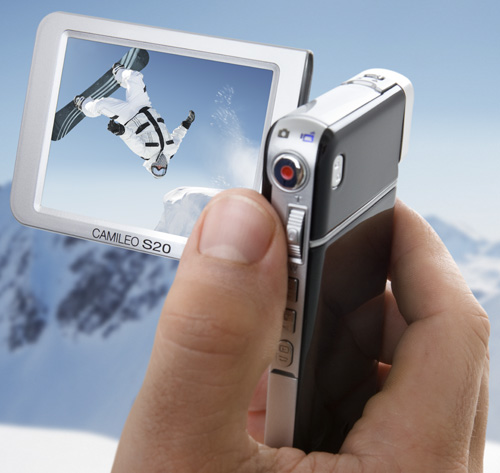 Most of the buttons have dual functionality
There are quite a few little buttons scattered around this camcorder, many with dual functionality. There's one that doubles up for either YouTube uploading or to engage the pre-record function. For the latter, press this in during shooting mode and the Camileo S20 maintains a record buffer of three seconds before you actually commence capturing video with the record button.
There are switches to change from photo and video modes, as well as between macro and landscape modes when photo shooting. At the back, there's the record button, a wide/tele rocker with an OK button in the centre, plus three more small buttons. Close inspection reveals that these three buttons also double up their functions, for either menu navigation or resolution, video light and playback controls.
While all this seems encouraging, the Camileo S20's menu system is a dog's dinner. To access it, you press the OK button on the zoom rocker and are presented with a rotating menu composed of five icons, which are scrolled through using the zoom rocker. The icons for the video mode represent resolution, white balance, scene modes, effects and set-up settings.
So let's say, you want to switch on the motion detection system. You might think this would involve scrolling through the menus, finding the effects menu and then pressing the OK button. Wrong; you press the right button. On selecting the effects menu, you then use the zoom rocker to scroll down to "Motion Detection," and press the right button to enter a submenu, where you use the zoom rocker to toggle between the on and off settings and then press the OK button to confirm.
No optical zoom, just digital, which is best left alone
If you want to access another menu, you press the left button twice and then use the zoom rocker to scroll through them again. To exit the menu system, you press the playback button. And there's more. Once you power-off the Camileo S20, all your custom settings are lost, except for resolution. If you are shooting and use the zoom function, it's very easy (and very frustrating) to press the OK button and inadvertently activate the menu system.