HyTrust nets $10.5m in funding
Cisco Systems now a good buddy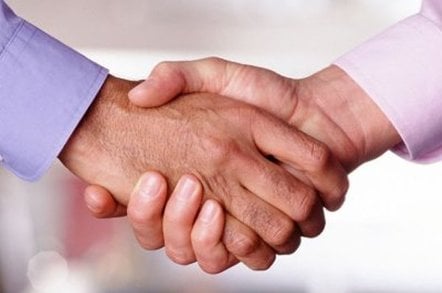 HyTrust, a startup that came out of stealth mode last April with a security appliance to lock down and manage virtual servers running on VMware's ESX Server hypervisor, has two new best friends: server wannabe and networking giant Cisco Systems and venture capitalist Granite Ventures.
Those two companies, along with existing investors Trident Capital and Epic Ventures, kicked $10.5m in second-round funding into the HyTrust kitty. The company announced itself and its $5.5m first-round capital in April 2009, and in May it shipped the HyTrust 1.0 appliance, which could lock down and manage VMware ESX Server 3.5 hypervisor. With the HyTrust 1.5 appliance, which came out in September, the tool could manage the latest ESX Server 4.0 and ESXi 4.0 embedded hypervisors that are part of VMware's vSphere 4.0 virtualization stack.
That integration includes locking down the VMware Distributed Switch (a virtual switch to link to virtual machines embedded in vSphere) and Cisco's analogous Nexus 1000V virtual switch, which runs inside ESX Server virtual machines and which is an integral part of the "California" Unified Computing System blade servers that debuted nearly a year ago, putting Cisco on a collision course with its server partners.
The HyTrust 1.5 management tool is written in Java and runs atop Linux; it can be run inside a virtual machine and deployed on any old server at $3,500 a pop, or you can pay $7,500 and HyTrust will put it on an X64 server and lock it down for you. HyTrust is currently working on tweaking its eponymous appliance so it can secure the XenServer hypervisor from Citrix Systems and the Hyper-V hypervisor from Microsoft. The XenServer support is slated for the second quarter of 2010, with Hyper-V to follow.
HyTrust said that it would use the cash to fund development, sales, and marketing. As part of the second round of funding, Granite Systems is getting a seat on the HyTrust board, with Len Rand, one of the company's partners, taking that seat. Cisco is not getting a seat, but will be working with HyTrust to tighten the integration between the HyTrust appliance and the Nexus 1000V virtual switch. (Considering how important security is to enterprise customers deploying VMware hypervisors, it wouldn't be surprising to see EMC or its minion, VMware, kick in some money during a third round of funding when that happens.)
In addition to the funding, HyTrust also said that it has hired Jim Gannon, formerly director of global accounts at VMware and director of EMC's Japanese operations before that, to be its vice president of sales. Gannon had a number of management positions at EMC and General Electric before that in his two-decade career.
Gannon's appointment and the fact that one of the company's co-founders, Renata Rudko, headed up marketing at VMware, will make the transition so much smoother when HyTrust gets a little more traction in the market and EMC buys it - provided that co-founder Eric Chiu, the company's president and chief executive officer, is willing to sell. Neither co-founder will want to do that before support for Hyper-V is out and gaining steam. ®
Sponsored: Minds Mastering Machines - Call for papers now open