Apple prepping 'Explicit' App Store?
Puritanical purge continues
Apple's campaign to shield iPhone and iPod touch users from what it deems to be "overtly sexual content" has entered a new phase - and a strange one it is.
On Wednesday morning, Cult of Mac, 9to5Mac, and Recombu all reported that Apple has added a new "Explicit" option to the list of categories from which developers must choose when submitting an app through the iTunes Connect app-registration system.
Based on the addition of this sexually themed category, it appeared that Cupertino was perhaps preparing for an Adults Only department in the iTunes App Store.
However, when we contacted Reg-friendly app developers from Rogue Amoeba and iPhone Developer Tips, neither of them saw that choice when they fired up iTunes Connect.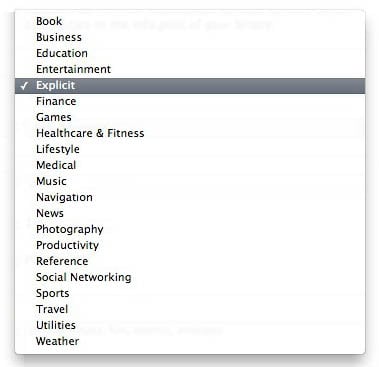 What Recombu's "developer friend" saw when choosing a Primary Category in iTunes Connect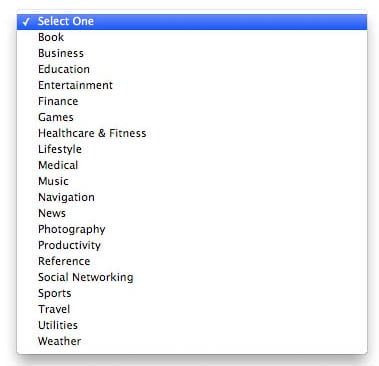 The same pull-down menu as seen by Rogue Amoeba
To add a bit more confusion to the mix, as of Wednesday morning the iTunes Connect Developer Guide (PDF), didn't list Explicit among its Primary Category selections. But we have no reason to doubt those developers who did see the Explicit category in iTunes Connect. Nor do we have any reason to doubt those who didn't.
As Rogue Amoeba's Paul Kafasis told The Reg, iTunes Connect updates erratically. "For a time (a few hours, maybe a day or two), we might still see an older list," he said. "This happens because iTunes Connect is served up by a whole bank of machines, and things get rolled out individually."
In other words, some devs might see the Explicit category, and some may not. Or, for that matter, perhaps Apple had that category available only briefly, and then pulled it - but some devs still see it.
Unsurprisingly, Apple did not answer our request for clarification.
This latest dance with explicitness is only be the latest twist in what has been a week of puritanical oddness coming from the folks at One Infinite Loop.
First came reports that Apple had removed over 5,000 apps from the App Store for "overtly sexual content" late last week. The developer of Wobble - an app that had previously run into trouble with the App Police - spoke with an Apple rep who provided details on what was deemed objectionable, including women or men in bikinis, sexual connotations or innuendo, and anything that could be sexually arousing.
He was also told that "no skin" could be shown. "I asked if a Burqa was OK, and the Apple guy got angry," he writes.
Then Apple marketing honcho Phil Schiller got into the act. When ask the quite reasonable question of why some bikini apps were banned but not the Sports Illustrated annual swimsuit edition bikini-fest, he answered: "The difference is this is a well-known company with previously published material available broadly in a well-accepted format."
Which explains why apps from Playboy, Playgirl, Penthouse, and Surfing Magazine remain available. But does Schiller consider SuicideGirls.com well-known and well-accepted? It appears so, as their Seduce a SuicideGirl app is is still available - although, to be fair, its seductive lovely displays her jubblies encased in a bra, not a bikini.
The erratic nature of the puritanical program can be plumbed by a simple search through the App Store. For example, Call Babe shows plenty of skin, although the well-toned epidermis is clad in lingerie. 7 Minutes in Heaven's raison d'être could only be described as chock-full of "sexual connotations or innuendo," not to mention nudity. And iKamasutra? Let's not even go there.
But perhaps it's just taking a bit of time for the App Police to dig their way through the 150,000-plus apps clogging the App Store. For example, Movie of Sexy Japanese Girl, which displayed not only bikinis and bras but also a wee bit of oh-so-Japanese mild bondage, was available on Monday, but not today - although another Japanese soft-core app, the bizarrely named Toilet Paper Babe, remains available. Today, at least.
Tomorrow, however, it might be possible to resubmit banned apps, as long as they're tagged as Explicit. Or not. In the grand tradition of the App Police, only Cupertino knows for sure. ®
COMMENTS
You must be fun between the sheets
Oh mummy!
also
Also when they say "well known names" they mean well known yank names, as companies like Upfront and wanibooks have had their photobooks pulled, and those you'd only find if you were fans of their specific product.
pointless and derivative type of apps
Sorry, have you actually looked at some of the rubbish that's already available?
And you approve of Apple tying themselves up in knots (oops!) trying to decide what sort of content they should or shouldn't allow to presumably "protect the integrity of their brand"?
Go away, troll.
About flippin' time
I've no objections to the female form, what I do have an objection to are the developers putting a handful of oh-so-tame pictures into a slideshow app and then having the brass neck to try charging for it. Anyone with a spare hand and a box of tissues has only to do an image search at Google with the smut filter turned off.
I can understand the developers
It is already hard when your business is scrapped in a day, but this really feels like Apple is just yanking their chain.