Dell's order status website wobbles at knees
'Your information does not match, please try again'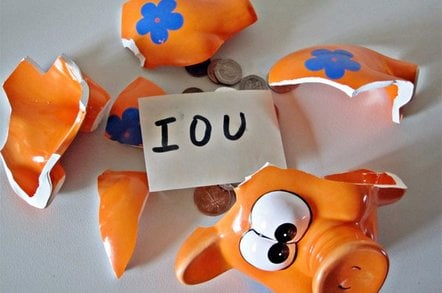 Updated Dell customers hoping to check when their newly-purchased computer will be shipped are complaining about errors on the vendor's order status website.
Over the past week some Dell customers have struggled to access details about when their kit would be delivered by the company.
"I placed an order last Friday (22nd Feb) and, since then, have been unable to check the order status on their web site. Several calls to Dell later, I spoke to Dell Customer Care today and was [given the] information that their 'applications are down' and that I should call back tomorrow," El Reg reader Bruce told us.
His complaints have been echoed online, with some people griping about Dell's latest customer boo boo via Twitter and various forums.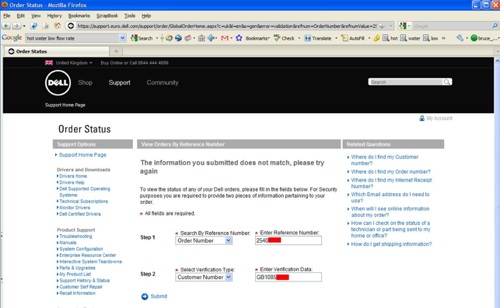 'Appropriate people' missing in action
"I ordered a new Core i7 laptop from Dell the other day for £646, thought it was a good deal. All went well, got the order number today but when I check the order status on the dell website it just says that 'The information you submitted does not match, please try again'," said Glaswegian-based Bocco on the DVD forums.
Despite the complaints, Dell has yet to respond to our request for comment.
A spokesman at the company told us yesterday afternoon that he needed to check with the "appropriate people" about what had gone wrong with Dell's order status site, which appears to have had the wobbles for the best part of a week now.
However, we've not heard anything since. We'll update this story if the "appropriate people" hit the right buttons and actually get in touch. ®
Update
Dell has since given The Register this statement, which confirms that the site has now been fixed after four days of server-related problems.
Dell experienced a technical issue to its Order Status website on Thursday 18th February. The root cause of this problem was due to the fact that an application service running on the database server of the website hung and failed to start automatically.

This meant that order information was not being updated into the database, causing a backlog of order information to sit in a queue. This resulted in customers not being able to view the latest status of their orders on the website.

Our IT team treated this as a top priority, with the issue being resolved yesterday, Monday 22nd February. The queue is now clear and Dell's Order Status website is back to working normally.

We would like to apologise for any inconvenience caused to our customers. We are now implementing further monitoring solutions to prevent similar situations arising in the future.
Sponsored: Minds Mastering Machines - Call for papers now open