Apple to take iPad orders this week?
Fanboy credit cards at the ready
Want a the 3G-less Apple iPad? The Mac maker will begin taking advance orders for the product later this week, it has been claimed.
The news comes from website AppAdvice - formerly AppleiPhoneApps.com - and is said to derive from "a reliable source... familiar with the matter".
Said mole says Apple's online store will begin taking iPad orders on 25 February.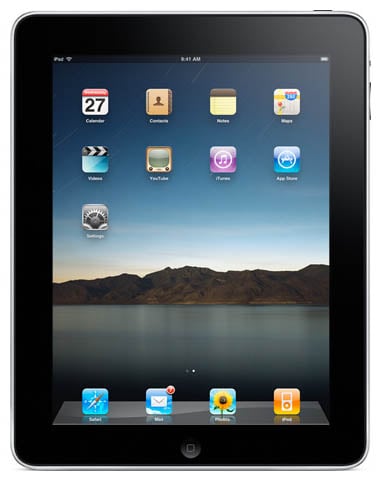 Apple's iPad: order yours later this week
Only US customers will be offered the product on that day, he or she continues, and only the non-3G model will be included. Shipments should follow in around 30 days. Apple said "late March", when the device was announced late in January.
The Wi-Fi only iPad will come in 16, 32 and 64GB incarnations priced at $499, $599 and $699, respectively. That's £323-452 at the current Dollar-Sterling exchange rate, but UK pricing has not yet been announced. Maybe later this week...
The 3G iPad will come in the same choice of capacities but cost $629-829 (£407-536). ®
COMMENTS
ergonomics
because a netbookl doesn't do portrait, only landscape. nuff said. Also, the iPad is hermetically sealed, unlike a netbook (and even a newspaper). get it dirty all you want, just wipe it clean...
It's is also NOT a tablet. A tablet is a $1,000 full fledged PC, ($1700 if it can do h.264 decoding). It requires expensive software and constant maintenance, and less than 5% of the apps made for it are even touch aware, let alone the OS itself...
This is a COMPANION COMPUTING DEVICE. It is not MEANT to replace your netbook (though it might as well, given the anemic performance of what people call one, and after you buy Office for it they're way more expensive than an iPad), it's designed to compliment both your PC and your phone. It pairs with your phone for making/taking calls as well as doing VoIP calls, handles large amounts of e-mail beautifully, handles photos on the run, entertains the kids and you, hang easily from a car seat so the kids can watch video in the car withough buying a seperate system to handle that, and its the best ebook system i can imagine (I treid both the Kindle and Nook for more than a week each, e-ink sucks except in certain lighting conditions, i MUCH prefer my IPS MBP screen in both bright light and dim rooms...)
Yep - RE: Any use?
gautam asks, "Just wondering what will be the optimum use of this ?? "
Let's pick a market...
In the West, the aging population is continuing to rise. They have some degree of wealth, which they are willing to spend. They are less mobile than their children and grand children.
This group of people wish to stay in touch with their children & grand children over social networking and email, but dealing with viruses is a pain. They wish to read the news, while modern generation seem to care less about the news. They want to have SIMPLE access to the web, not UPS's, flipping open laptop cases, OS upgrades every 2 years, virus software license upgrades every year, wireless access points, plugging in machines into outlets, devices which do not weigh a ton, and reasonably sized screens.
I knew a retired man who loved surfing the web from an iPhone, but the screen was a little too small. I know a retired woman who uses an HP laptop with a 17" display, but it is hard to lug around, has to be plugged in after a short period of time, was an absolute bear to get working (until Vista SP1 was released by Microsoft), and the virus tax makes it expensive over the long term.
After using an iPad for for it's battery lifetime, the virus tax (to keep getting your virus updates coming) will be about $300 US - the iPad is a great long term investment. Can someone get a freeware version? Sure. Someone has to install it for the retired folks and take care of their machines once they get a virus.
Can a retired person get a netbook? Sure. The small keyboard, small screen size, and anemic CPU power may be a turn-off. Virus updates sure are.
The cost of the iPad is a cheap investment for retired family member connectivity - this is really a great market. Is it for everyone? No, but that's OK - it does not have to be for everyone in order for Apple to make a profit and continue supporting the form factor for a long time.
I wonder if there is another market which fits this device well...
Not for geeks
Yeah, but by being on this website the odds are you're a bit of a techy and I don't think this device is aimed at us. It's the kind of thing my wife would love to have so she can check her Hotmail and Facebook and do a bit of surfing while she's sitting on the sofa - rather than sit at a desk and wait 5 minutes while Windows boots up. My kids would love it too for the games and Spotify Premium.
Don't forget that there is a world out there away from us geeks!
Anyone...
that either calls themself or thinks of themself as a "power user" is a dick. End of.
Re: not for geeks
Sean O'Connor has nailed it. It's not a device for geeks or 'power users'. It's a device for everyone else, a bit like the iPhone.
If you don't want one (and I don't), great, you saved yourself some money. Try to understand that Apple doesn't create items solely for you.