Open source - the once and future dream
Ballmer, trolls, and the next ten years
State of FOSS
Today's FOSS companies claim some big business customers and growing revenues. They are mostly believed to be making around $15m to $20m annually, while Alfresco is believed to be puling in $40m. These companies are private and do not break out their numbers.
Typically, in the software industry, the goal is to break the $1bn mark and begin another growth after that. That's certainly the goal of Red Hat's chief executive Jim Whitehurst.
Jaspersoft CEO Brian Gentile believes it's only a matter of time before companies like his hit an inflection point when revenue from subscribers cover expenses and at least become cash-flow positive - a figure he puts at between 800 and 1,000 subscribers. Gentile predicts Jaspersoft and others will hit that inflection point during the next two years.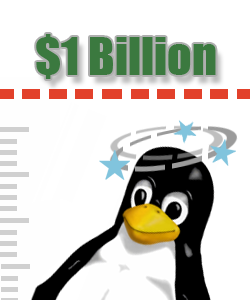 "There are a number of use about to hit that phase," Gentile said. "We just have to exercise our patience."
Rivermuse co founder and open-source veteran Dave Rosenberg believes that while open-source companies can grow, it's more realistic to see them make no more than $100m in annual revenue and feels that the magical $1bn mark is a stretch goal. The reason? The nature of open source - the fact that code is already out there and you must persuade customers to pay you to support something that their own techies are comfortable with and capable of doing.
"This is the blessing and curse of open source - it downsizes the market in many ways," Rosenberg said. "As you make this software available for free, they are sucking the life out of the market. A market that might have been worth $200m will becomes $100m, because customers and are getting more value from it."
Rosenberg believes success when it comes has been where open source companies have challenged a clear player on price - like BEA, Oracle or Documentum - and offered users a very similar experience, so they've not had to adapt from what they already know. This has allowed users to switch very easily at fprecisely the time when it came to renewing their very expensive enterprise license with their existing IT provider.
Diversify, diversify, diversify
Another issue inhibiting the ability of opensource companies to hit the $1bn mark is that many have a limited number of products - often one core product or service - that they are only slowly building out. Open source theorists might dismiss this as charmingly old school and place their faith in the ability to make money from the long tail of demand and from volume markets. But the IT giants they are challenging and emulating are armed with massive arsenals of product that helps them rake in billions of dollars each quarter or each year.
Of course, the really big money earners in the world of open source are those who already have other products or services and are not centered around open-source. In the case of Oracle, it was the database. When it came to IBM's 2005 purchase of open-source application server Gluecode, it was the rest of IBMs vast applications and services portfolio. Others, like Cisco or Hewlett Packard, are using open-source code in their networking equipment or running on their PCs and servers.
Jean-Noel de Galzain, chairman of the program committee for the Open World Forum 2009, was blunt in his assessment. "Today a few open-source companies are really emerging in terms of pure revenues...there is a lack of economic credibility around the open-source business model," De Galazin told us. "Does open-source really bring and open-source business model or does it influence the existing business model?"
He believes this will be the big dilemma for open source in the next decade: Can it function inside purely open-source companies or does it work best inside companies that make their money through other - potentially closed-source - means?
Sponsored: Minds Mastering Machines - Call for papers now open