SWaP Signature watchphone
Timepiece telephony
The handset comes with a 2GB Micro SD card and the specs say the Signature supports cards of up to 8GB capacity. It had no trouble reading our 16GB card, though. PC connectivity lets you copy files to the microSD card, which saves you having to power down to extract the memory card from its slot next to your SIM under the battery-toting backplate.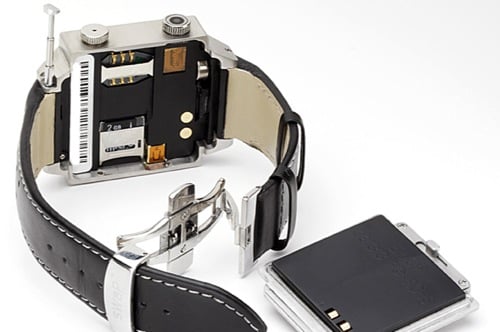 Remove the battery to reveal the slots
PS. That's the telescopic stylus, not an antenna
You can't get to the 32MB of internal memory this way, though, so stuff you've saved to the internal storage and want to get off the phone needs to be copied to Micro SD first.
The handset will play tunes stored on the card but only if you put them in a "My Music" folder – you need to follow the same pattern with other media types too. It supports WAV, AAC and MP3. The earphones connector is the same tiny USB slot used for mains power and PC connections. The bundled headphones are fair to middling in quality, but we found the the flat in-ear buds to be uncomfortable and didn't stay in our ears.
Voice calls are best taken through a headset – either wired or the provided Bluetooth option. There is a speaker on the SWaP, but it isn't loud enough. Even at its whispering level, we doubt you'd want people to have the chance to hear both sides of your conversations.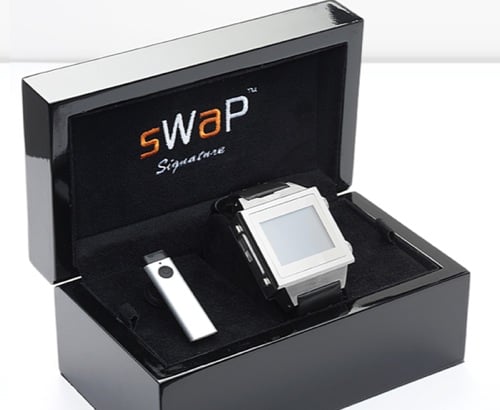 The SWaP comes with its own Bluetooth headset. Thankfully, it's a good one
Through the wired headset and Bluetooth earpiece call quality was surprisingly good, but, as with other aspects of the Signature, it's a challenge to actually make a call. Finding stored numbers requires multiple screen taps, and there's no favourites list for your most frequently called chums.