Freecom Network Media Centre
The acme of one-drive media streamers?
This upgrade license appears to entitle the user to media streaming facilities through the use of TwonkyMedia software - normally costing £27.43 for a Windows licence. BitTorrent functionality is provided by the Enhanced CTorrent Client, an open source project which hasn't been updated since 2008.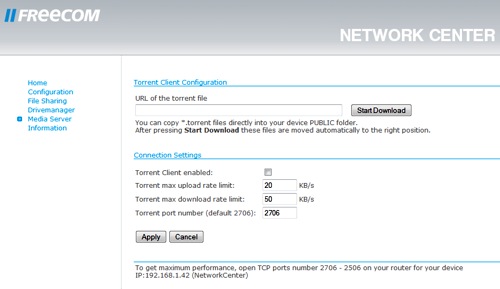 Setting up the BitTorrent client
Should Freecom really be charging you to use outdated open source software which lacks basic features present in all other modern Torrent clients? Probably not, but the more pressing concern is that it's not just old, it's potentially broken. Freecom has demonstrated to us that the client is functional on another device, but we were unable to load any Torrent files on our review unit.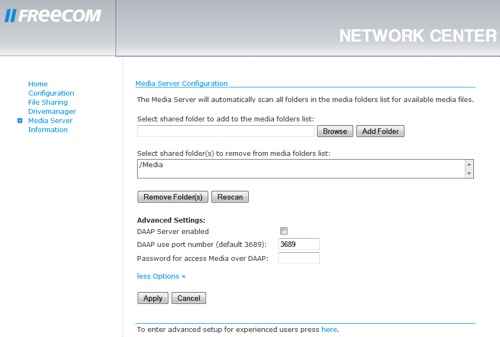 Media Server configuration
On the Windows software side is the Freecom Network Storage Assistant, which allows the user to perform initial configuration tasks in one click, open the web interface, map remote drives and perform recovery tasks. The software also locates and displays the LAN IP and network path of any detected Freecom drives.
Before you go delving into mapping drives though, you must create accounts for everyone who wishes to access the device. This allows each folder in the drive root to be made accessible to only the desired user(s) and must be completed before mapping even the \\NetworkCentre\Public\ folder.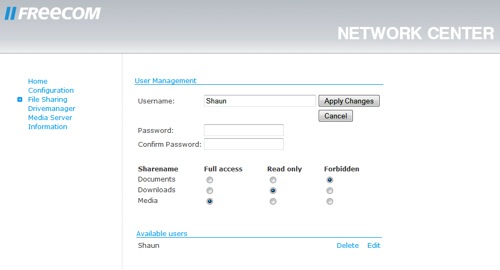 You have to create users before you can share anything
That's right, you can't map the drive root. Though this feature would be useful in the office environment - the user-base targeted by the Network Storage Centre - the Network Media Centre is aimed towards the home user who may find this very confusing.
Sponsored: Minds Mastering Machines - Call for papers now open