$38m 'Fail Bounty' for Moto boss
Heads or tails, Jha wins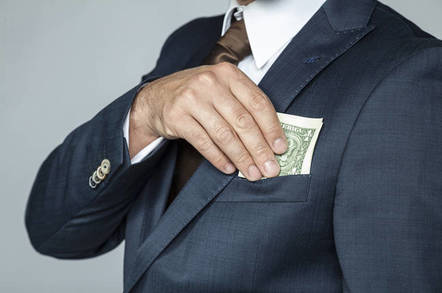 An odd detail has emerged from Motorola's divorce plan. After trying but failing to find a buyer for either the mobile phone business or the set top box business, the company is now seeking a simpler separation splitting the company into two bits: networks, and everything else.
The incentives for co-CEO and mobile phone boss Sanjay Jha are lined up in an interesting way. If the divorce succeeds, then Jha gains between 1.8 per cent and 3 per cent of the new phones+set top boxes entity. Currently the market values Motorola at $16bn, the mobile unit contributes most of the revenue, but most of the losses, too.
However if Jha fails to see the divorce through, he gains a bonus payment of $38m. This has been raised from $30m, wire services report. The compensation plan has also lowered the equity he'd be entitled to receive in the new unit, from a fixed 3 per cent figure to a range, from 1.8 per cent to 3 per cent.
In other words, Jha's reward for "failure" has been increased, while the risk of "success" has been increased too. Is this commonplace, dear readers? The next time we enter a compensation negotiation, it might be handy to have such a "heads we win, tails you lose" strategy up our sleeve.
Jha was a success at Qualcomm, but in 18 months as Motorola's phone chief, he has has failed to halt the phone company's free fall, which has become one of America's most stunning, slow motion business collapses. The mobile phone business is now the smallest of Motorola's three units, measured by income, snagging under $2bn in revenue in the last quarter. Three years ago Motorola described a $12bn quarter as "disappointing", and was booking over $40bn a year. It's now around half that.
One hit wonder
After failing to follow-up the Razr, Moto's market share collapsed even more dramatically, from 22 per cent in 2Q 2006 (which gave it No.2 spot behind Nokia) to just 3.7 per cent in the most recent quarter. It halved through 2009.
Jha put an emphasis on high-end Android phones, with the Dext particularly well received. More smartphones are promised this year, in contrast to Nokia, which is halving the number of smartphones models it releases. But there's little sign of a balanced portfolio for midrange and overseas markets; the bread and butter of any phone business.
Jha gets the $38m fail bounty if the divorce doesn't go through by June 30 2011.
For $38m, how badly do you think you could do your job? ®
Sponsored: Minds Mastering Machines - Call for papers now open