HP puts mid-range storage on steroids
MSA and LeftHand lines get new names, bigger biceps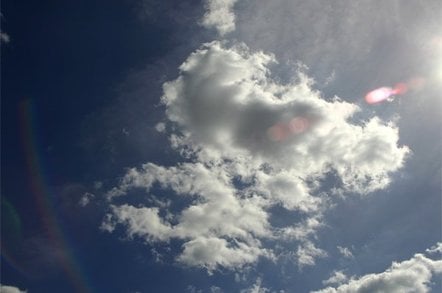 HP is updating its MSA and LeftHand storage arrays and bringing in a new naming scheme.
The MSA (Modular Smart Arrays) provide Fibre Channel (FC), iSCSI and SAS-connected block storage for small and medium businesses using SAS and SATA disk drives. The current top model is the 2000fc G2 MSA which can store a maximum of 60TB and use two controllers.
LeftHand was acquired by HP in October, 2008, and is an iSCSI block storage product for medium enterprises that can scale into the lower part of the enterprise market. It can aggregate the direct-attached storage of server hosts into a virtualised pool of networked storage. The current model is the P4000 SAN and offers 12TB - 21.6TB of capacity, thin provisioning, storage clustering and various protection facilities with its SAN/iq software.
In HP's storage product line-up the MSA arrays are larger than the X500, X1000, and X3000 products. The LeftHand P4000 scales up more than the MSA products and the EVA line is the mainstream enterprise storage array followed by the top-end XP.
P2000
From now on the MSA line will be known as the P2000 line, with the LeftHand P4000 products becoming simply the P4000 products. If we extend the same naming up and down HP's storage array line then the various X-something products become P-something, such as the X1000 becoming the P1000.
At the upper end the EVA line would become the P6000 and the XP products the P8000, not that HP said that this was going to happen. It does have a logical appeal though, like IBM's consistent DS4000, DS6000 and DS8000 line.
The third-generation MSA 2000, now the P2000 G3, doubles its Fibre Channel connect speed to 8Gbit/s. It also has a 1GbitE iSCSI port so that the product can be used by non-FC shops such as branch offices. There can be 50 per cent more 2.5-inch drives (149) and 60 per cent more 3.5-inch drives (96). The maximum capacities are 57.6TB with SAS drives and 192TB with SATA ones.
HP has added Remote Snap replication software to send data to a connected P2000 G3 array. Volume Copy software automatically captures local copies of stored data and there is a standard 64-snapshots facility which can be extended to 512 by a purchasable license.
Customers with MSA2000 G1 or G2 FC, SAS or iSCSI models can upgrade to the G3 level via a controller swap. Both iSCSI and SAS-connected versions of the P2000 G3 will come in the next three months according to Richard Masterson, HP's UK and Ireland Storageworks manager.
P4000
The P4000 is a second generation LeftHand product and one interesting addition is the ability for a P4000 system to aggregate and virtualise both its own direct-attach storage and an externally-attached array such as, for example, a P2000.
There is support for 7,200rpm SAS drives and users can upgrade capacity in a pay-as-you-grow fashion in smaller 12TB increments. HP claims the P4000 G2 lowers the price per gigabyte by up to 43 per cent over previous P4000 versions
There is a new server platform, the ISS G6 X86 box, which comes with 12 storage bays, and revised SAN/iq software, version 8.5, which is available to existing HP/LeftHand users as a free upgrade. It should also be available to many LeftHand customers who bought product before the HP acquisition.
The new software introduces what HP calls Network RAID 5 and 6, with Masterson saying it can increase storage utilisation by up to 50 per cent. Existing mirrored volumes can be converted to these Network RAID levels if needed. What happens is that data is copied across several P4000 G2 nodes to provide the ability to rebuild it if a node fails. There is no RAID facility with the P2000.
SAN/iq 8.5 brings in application-managed snapshots. There is also new lights-out management software which, HP claimed, can lower energy costs by up to 10 per cent.
An X3400 product will launch in April, a Unified NAS Gateway, providing file-level access to the P4000, and functioning as a management console for a P4000 infrastructure set-up.
Masterson said: "We'll see the system scaling significantly larger." Testing is ongoing with the P4000 being used for Oracle and SAP storage. HP is definitely pushing its iSCSI P4000 storage upscale, and increasing the competitive pressure on Dell EqualLogic.
Interestingly Overland Storage is introducing an iSCSI Snap Server product today, emphasising the strength of the iSCSI storage market.
How do the new P4000 and the EVA line compare in HP's view? Masterson said: "The EVA line is for customers with a strong investment in a Fibre Channel infrastructure and a need for continuous access... The P4000 will fit into the enterprise space for significant new deployments of virtualised infrastructure... With the P4000 we'll be much more cost-competitive in the market and we'll be very cost-effective with the virtual SAN."
The shorthand here is that the EVA is the Fibre Channel and Fibre Channel over Ethernet (FCoE) line whereas the P4000 is the iSCSI line. Although it has Ethernet access there are no plans, Masterson said, to bring FCoE to the P4000.
P2000 G3 pricing starts at $9,950 for a 3.5-inch drive FC dual controller box. A similar box with small form factor 2.5-inch drives will set you back $10,350, while the FC/iSCSI combo with 3.5-inch drives costs $12,350.
P4000 G2 SAN product is currently available and US list prices start at $30,000. The NAS Gateway is expected to ship on April 5, 2010. Network RAID 5 and 6 software upgrades are expected to be available in March.
The new SAN/iQ software will ship with P4000 G2 SAN systems and be ready for download on March 29, 2010. ®
Sponsored: Minds Mastering Machines - Call for papers now open