Archos 9
The Windows 7 iPad alternative?
The lack of raw processing power also causes problems when it comes to video streaming with all but the lowest definition YouTube videos refusing to run cleanly. BBC iPlayer streams proved barely watchable with noticeable frame drop and judder. Ttrying to watch any of the 480p QuickTime film trailers hosted by Apple proved to be a complete waste of time. It's worth remembering that these are all tasks that any bog standard Atom netbook can perform without getting its chipset in a twist.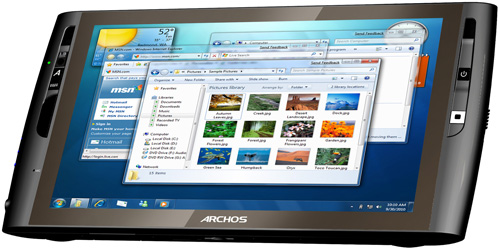 Alas, more placebo than a full-strength tablet
On the positive side having Windows 7 means the Archos 9 comes with Windows Media Player 12, which is one of the better bits of software that Microsoft has cooked up of late. With native support for most popular audio and video codecs including H.264 and AAC it at least makes the 9 a pretty potent media player. We tested a selection of H.264 and AVI video files up to and including 1080p and didn't encounter any playback issues. Archos also includes a copy of Matroska Splitter which adds MKV support to WMP12.
With the K-Lite codec pack installed too, WMP12 played every MKV container HD video we threw at it, which was just as well as the processor lacks the grunt to run HD video through VLC media player. The 9's success at playing HD video does rather highlight its lack of an HDMI port. Media playback is also helped by the rather fine pair of forward facing speakers that Archos has fitted to the 9. They certainly do the job and produce a clear and well balanced sound that puts the speakers in many netbooks we have tested to shame.
Archos claims a full charge of the 9's removable battery is good for approximately 5 hours but even when we turned the Wi-Fi radio off, the screen brightness down and didn't use it to watch video, the best we managed was barely more than 4 hours. During our more rigorous battery tests - a standard definition video playing at full screen using VLC with the screen brightness at max, the Wi-Fi radio on and the volume turned up to 11 - all we managed was 145 minutes – hardly impressive and pretty much rules out ideas of using it as an e-book reader, even for those with strong arms.
So, is the 9 really a PMP or a UMPC? We are not entirely sure, and neither we suspect is Archos. To work as a fully fledged tablet PC it needs a faster processor, more memory and perhaps a version of Windows 7 rather higher up the Microsoft food chain. On the other hand it is too expensive, too large and too short on storage capacity to be a decent PMP.
Verdict
Regardless of role the Archos 9 could do with a much longer battery life. If the company improved the specification or dropped the price, then the 9 would make more sense. As it is, we suspect that anyone with four hundred odd quid burning a hole in their pocket and wanting one of these new tablet devices will hold off until March and then head to their nearest Apple store. Or they could just buy one of the dozens of common and garden netbooks currently available for around the £300 mark. ®
More Touchscreen PC Reviews...

HP
TouchSmart 600

PsiXpda
Pocket Computer

Packard Bell
oneTwo M

Acer Aspire
5738PG Touch
Sponsored: Minds Mastering Machines - Call for papers now open

Archos 9
Rather than appearing as the best combination of tablet PC and PMP, this device fulfils neither role satisfactorily, despite the welcome ability to handle 1080p video.